The Right Roasting Pan for Turkey
Most experts recommend the open pan, dry heat roasting method as the easiest and most reliable of all cooking methods for a whole turkey or turkey breast.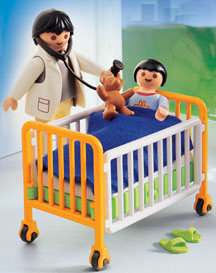 Playmobil Hospital and Health-Related Toys
Hospital and physician visits can be frightening. The Playmobil Hospital is an excellent toy, as well as an excellent tool, for helping children understand, accept and become comfortable with a medical/hospital setting.
Eat Out, Eat Right
What if you just don't have time to cook and have to eat out? If that's the case, then you'll need a reliable guide to healthier restaurant eating. "Eat Out, Eat Right!" by Hope S. Warshaw, MMSc, RD, CDE just may be the ticket.
Cooking Up Fun For Kids With Diabetes
Every day millions of parents struggle to get their picky eaters to eat better, and with childhood obesity, leading to Type 2 diabetes in children on the rise, the importance of eating healthfully cannot be understated. For those of you getting your children ready for back-to-school, you'll love Cooking Up Fun For Kids With Diabetes, by Patti Geil and Tami Ross.
Books for Holiday Gift Giving
Six new book reviews, plus Marilyn's Top Picks List of favorites for holiday gift-giving. New titles include: 365 Daily Meditations For People With Diabetes; The Complete Diabetes Prevention Plan; Diabetic Dream Desserts; Charting A Course To Wellness; Diabetes, A Guide To Living Well; and The Vegetarian Family Cookbook.
Spring Book Reviews
New reviews include: Small Steps, Big Rewards, Walking Your Way To Better Health, The Everything Diabetes Book, Diabetes, Caring For Your Emotions As Well As Your Health, Food Folklore, Tales And Truths About What We Eat, The Vegetarian 5-Ingredient Gourmet, and Diabetes Snacks, Treats & Easy Eats.