About Dana Jacobi: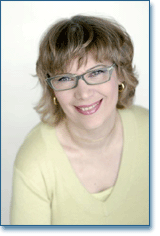 Dana Jacobi is the author of several cookbooks including The Best of Clay Pot Cooking, The Joy of Soy (A James Beard Award Finalist) and Amazing Soy : A Complete Guide to Buying and Cooking This Nutritional Powerhouse With 240 Recipes (winner of the Gourmand World Cookbook Award).
She has written for Food and Wine, Cooking Light, Eating Well, and Natural Health, and her syndicated column "Something Different" appears in over 750 newspapers. She contributed the soy section to The Joy of Cooking, and has taught soy technique classes at the Culinary Institute of America. As a consultant, she has also worked with major food companies to develop new products.
Finding food an endless adventure, she blends influences from her travels to Sicily, Morocco, Tunisia, and other Mediterranean countries, as well as those of Asia, into her cooking. When not in the kitchen or writing, she explores markets, visits culinary artisans, and knits. Dana Jacobi lives in New York City.
Articles by Dana Jacobi

This is a good dish during the holidays because it can be made to serve as many as needed. You can even wait until you count noses around the table before assembling the nests.
Stewing is one of the easiest ways to cook and Moroccan tagines are among the most delicious stews.
Johnny Kan served a Chinese chicken salad in his famous San Francisco restaurant and featured it in his 1963 cookbook. Learn more and see how we updated his classic recipe.
Served with grilled tofu, cooked red or black lentils or shrimp, you'll love this south Indian side dish if you're a fan of spice and heat.
This soup, almost a stew thanks to all the good stuff in it, includes what southwestern Native Americans called the three sisters - beans, corn and squash.

What do you add to raw spinach? Maybe the question should be "what don't you add to raw spinach?"

Brazilian cooking remains one of the least known, and most interesting, cuisines thanks to its combination of Portuguese, African and native Indian influences.
I have always loved beets and was delighted to discover this way of serving them as a kind of salad while apprenticing at a restaurant in Paris.
More Articles »»