About Dana Jacobi: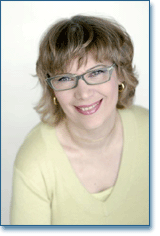 Dana Jacobi is the author of several cookbooks including The Best of Clay Pot Cooking, The Joy of Soy (A James Beard Award Finalist) and Amazing Soy : A Complete Guide to Buying and Cooking This Nutritional Powerhouse With 240 Recipes (winner of the Gourmand World Cookbook Award).
She has written for Food and Wine, Cooking Light, Eating Well, and Natural Health, and her syndicated column "Something Different" appears in over 750 newspapers. She contributed the soy section to The Joy of Cooking, and has taught soy technique classes at the Culinary Institute of America. As a consultant, she has also worked with major food companies to develop new products.
Finding food an endless adventure, she blends influences from her travels to Sicily, Morocco, Tunisia, and other Mediterranean countries, as well as those of Asia, into her cooking. When not in the kitchen or writing, she explores markets, visits culinary artisans, and knits. Dana Jacobi lives in New York City.
Articles by Dana Jacobi
A New Method For Tandoori Chicken
Because slashing skinless chicken parts to better expose the flesh to the marinade can be challenging – cut too deeply and the meat dries out during cooking – I began to think about alternative ways to make this succulent dish.
Fresh Tomato Sauce Makes the Meal
Salads draw attention for easy summer eating, but I have another favorite go-to for making quick warm weather meals. As long as local tomatoes are available, I keep fresh homemade tomato sauce on hand.
Inspired by Sesame Noodles
When an ethnic dish becomes really popular, I tend to get suspicious. In this light, I wondered how Chinese cooks would make another ethnic favorite, sesame noodles.
Chicken Salad Fit for a Celebration
When June graduations and weddings call for creative menu planning, the biggest challenge can be finding casual yet elegant and attractive dishes that please everybody without stressing the cook.
Very Versatile Veggie Soup
How can you prepare and consume the variety of cruciferous, leafy green, and orange/red vegetables, and other veggies experts urge us to eat every day?
On Christmas Eve, Feast Italian-Style
The Feast of Seven Fishes, an Italian Christmas Eve tradition, calls for serving seven individual seafood dishes. Instead, I invite friends to share this Feast of Seven Fishes, a colorful dish which includes seven kinds of fish and seafood.
Lemon Chicken with Broccoli and a Tropical Twist
Lemon chicken is legitimately Chinese. But for Americans, chefs batter and deep-fry the chicken, then top it with a gooey, tart-sweet sauce. See how we make a colorful, healthful version of this well-loved dish - with a tropical twist.
Catch a Moroccan-Style Dinner
A fabulous way to add excitement to your fish is with a flavorful dry rub, like this blend of spices North African cooks use.
Discover Salsa, Italian-Style
Salsa is the top-selling condiment in the United States. Latino cooks sometimes add to the primal combination of tomatoes, onions, hot chile, cilantro and lime -- but salsa is also fundamental to the Italian table.
More Articles »»