Advertise in Diabetic Gourmet Magazine
Diabetic Gourmet Magazine offers premium advertising for brands trying to reach an audience of people living with diabetes.
Advertising Options Include:
Email advertising
Banner / Display advertising
Official Magazine Sponsorships
Giveaway / Contest Sponsorships
For complete advertising information, including specific ad products, packages and sponsorship opportunities -- or to send an RFP or Insertion Order -- please contact our advertising coordinator (Christine DeSantis). You can also visit our Online Media Kit.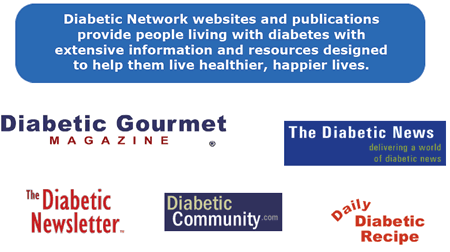 Diabetic Gourmet Magazine is a daily resource to millions of readers across the country and around the world. Our readers trust us to provide them with the most authoritative content, news and information through our website and exclusive e-mail newsletters and dispatches.
The combination of award-winning content and a targeted audience of readers creates a powerful, cost-effective tool for premium brands interested in reaching people expressly interested in diabetes and diabetes-related health issues, including heart disease, healthful cooking, obesity, high blood pressure, neuropathy and eye disease. Including one, or several, of the advertising products we offer in your marketing plan can produce impressive results for you or your client.
Advertising Products
Official Magazine Sponsorships
Contest Sponsorship
Email Advertising
Medium Rectangle Banner
Leaderboard Banner
Wide Skyscraper Banner
Text Links
Discounted ad packages also available
Audience
people living with diabetes
diabetes caregivers
parents, spouses of diabetics
health conscious consumers seeking healthier recipes and healthy cooking tips
food and cooking enthusiasts
overweight people and/or people with weight related health issues
71% of readers have diabetes
22% of readers have a family member living with diabetes
6% of readers are diabetes caregivers
71% of readers are married
80% of readers are female
59% of readers are are 45+ years old
Average HHI is $89,000
82% of our readers access the net from home
Benefits
highly targeted audience
build brand awareness
highly responsive audience
wide range of advertising products to choose from
cost-effective
quantity discounts
Ad(s) can be changed throughout a campaign based on ad performance
Highly competitive rates
expand customer base
develop mailing lists
announce new products
build brand loyalty
For complete advertising information, including how to contact our advertising department or submit an RFP or Insertion Order, please click on this link to access our Online Media Kit.