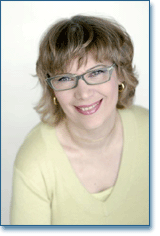 Dana Jacobi is the author of several cookbooks including The Best of Clay Pot Cooking, The Joy of Soy (A James Beard Award Finalist) and Amazing Soy : A Complete Guide to Buying and Cooking This Nutritional Powerhouse With 240 Recipes (winner of the Gourmand World Cookbook Award).
She has written for Food and Wine, Cooking Light, Eating Well, and Natural Health, and her syndicated column "Something Different" appears in over 750 newspapers. She contributed the soy section to The Joy of Cooking, and has taught soy technique classes at the Culinary Institute of America. As a consultant, she has also worked with major food companies to develop new products.
Finding food an endless adventure, she blends influences from her travels to Sicily, Morocco, Tunisia, and other Mediterranean countries, as well as those of Asia, into her cooking. When not in the kitchen or writing, she explores markets, visits culinary artisans, and knits. Dana Jacobi lives in New York City.
Dana Jacobi is also a featured columnist in Diabetic Gourmet Magazine. For a look at all of her featured articles, follow this link