Raw broccoli is not necessarily more healthful than cooked. Broccoli is part of the cruciferous vegetable family and a great food to include in your diet either raw or lightly cooked.
These vegetables provide many nutrients but their unique contribution is a group of compounds called glucosinolates. When we chew or chop these vegetables, glucosinolates are exposed to an enzyme stored elsewhere in the plant that converts these inactive compounds to isothiocyanate compounds which studies suggest may reduce cancer risk.
The latest research shows that you can get high amounts of these protective compounds if you blanch the vegetables first. Blanching is a quick dip in boiling water, followed immediately by cooling.
You can also preserve both nutrients and the enzyme needed to form protective isothiocyanates if you steam broccoli for three or four minutes (just until crisp-tender) or microwave for less than one minute.
If you won't be consuming the cooking liquid (as in soup), boiling broccoli - or other cruciferous vegetable - is not the optimal method. Boiling leaches out the vegetable's water-soluble vitamins in these vegetables, such as vitamin C and folate, as well as many of the glucosinolate compounds, which are water-soluble, too.
Content Continues Below ⤵ ↷
Moreover, too much exposure to high temperatures destroys the enzyme that converts the inactive glucosinolates to active compounds.
Serving broccoli raw is an excellent option, since it retains these nutrients and the enzyme that forms isothiocyanate compounds. Before serving on a relish tray or salad, quickly blanching and cooling allows you to get even a bit more of these compounds.
When you want cooked broccoli, steaming or very brief microwaving are excellent choices.
Here's a great recipe to try!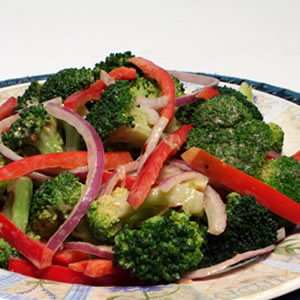 Broccoli Salad with Peanut Dressing
Makes 4 servings.
Ingredients
4 cups broccoli florets
1 medium red bell pepper, cut in thin strips, about 1 cup
1/3 cup red onion, cut in thin crescents
3 Tbsp. smooth peanut butter, natural and unsweetened
2 tsp. roasted sesame oil
1-2 Tbsp. rice vinegar
2 Tbsp. fresh lime juice
1 Tbsp. reduced-sodium soy sauce
2 tsp. agave syrup
Pinch of salt
Ground black pepper
Red pepper flakes, optional
Directions
Place steamer basket in large saucepan. Add water to depth of 1 inch. Cover and bring the water to boil. Add broccoli, cover and steam over medium-high heat until tender-crisp, 3 minutes. Transfer broccoli to mixing bowl. Add bell pepper and onion.
In small bowl, combine peanut butter and sesame oil. Add vinegar, lime juice, soy sauce and agave and whisk until dressing is smooth. Season dressing to taste with salt and pepper. Pour dressing over vegetables and use fork to toss until salad is well coated. Sprinkle on red pepper flakes, if using, and mix to combine. Cover, and refrigerate the salad for 1 hour before serving, or up to 24 hours. Toss well before serving.
Nutritional Information Per Serving:
146 calories
9 g fat
2 g sat fat
17 g carbohydrates
6 g protein
4 g fiber
255 mg sodium
Content Continues Below ⤵ ↷
For more recipes, visit our collection of Diabetic-Friendly Broccoli Recipes.

Karen Collins, MS, RDN, CDN, FAND