Beets are a great nutrient-rich vegetable with low calorie content despite their sweet taste.
They are an excellent source of folate, a B vitamin that is heart-healthy and, because of its role in producing and repairing DNA, seems to be part of our anti-cancer arsenal, too.
The red color comes from compounds called betalains, which laboratory studies suggest could be both heart- and cancer-protective. In animal studies, beets seem to inhibit carcinogen formation and increase production of immune cells and body enzymes that help fight cancer development.
Nutritionally, beets are a diabetic-friendly food choice. One beet (82g) provides only 35 calories, zero fat and 8 grams of carbohydrate, along with 2 grams of dietary fiber and 6 grams of sugars.
Whether cooked, canned or raw, beets provide an array of nutrients, including potassium (267 mg) and vitamin C (4 mg).
Content Continues Below ⤵ ↷
Gently home-cooked beets maintain much of the nutrition, and raw beets preserve even more of the heat-sensitive nutrients. Try them peeled and grated raw into salads for an added burst of color.
Cooking beets is easy: leave about one inch of stem intact to minimize color loss while cooking, and roast them in the oven on their own or mixed with other vegetables, or steam them lightly.
For best nutrient content, don't overcook: keep roasting to 45 to 60 minutes and steaming to 15 minutes or less.
Pop them out of their skin after cooking, perhaps wearing rubber gloves to avoid temporarily pink-colored fingers.
Golden beets are less common, and though without the red betalain compounds, they provide lutein, a healthful carotenoid compound.
Here are some beet recipes to try.
Roasted Beet and Carrot Salad
Yield: 4 servings.
Serving size: 1-1/2 cups (375 mL).
Source: The Heart-Smart Diabetes Kitchen: Fresh, Fast and Flavorful Recipes Made with Canola Oil
Ingredients
Salad:

Content Continues Below ⤵ ↷

2 medium beets (about 8 oz/225 g total), peeled, cut into 8 wedges each
1 medium carrot (about 3 oz/85 g), peeled, cut in half lengthwise, and cut into 2-inch pieces 1
1 medium parsnip (about 3 oz/85 g), peeled, quartered lengthwise, and cut into 2-inch pieces 1
1 tsp canola oil 5 mL
4 cups (about 4 oz/ 115 g) packed spring greens 1 L
1/2 cup thinly sliced red onion 125 mL
1/4 cup golden raisins (optional) 60 mL
1/4 cup (1 oz/ 28 g) pecan pieces, toasted 60 mL

Vinaigrette:

3 Tbsp balsamic vinegar 45 mL
1 Tbsp plus 2 tsp (10 mL) canola oil 15 mL
1/8 tsp dried red pepper flakes .5 mL
1 medium clove garlic, minced 1
1/4 tsp salt 1 mL
1/4 tsp coarsely ground black pepper 1 mL
Directions
Preheat oven to 425 F (220 C).
Coat a foil-lined baking sheet with cooking spray. Place beets, carrots, and parsnips on baking sheet. Drizzle evenly with 1 tsp (5 mL) canola oil and toss gently, yet thoroughly, to coat lightly. Arrange vegetables in a single layer and bake 10 minutes; stir and bake an additional 7 minutes or until beets are just tender when pierced with a fork. Remove from heat and let stand to cool slightly, about 10 minutes.
Combine vinaigrette ingredients in a small jar, secure lid, and shake well to blend thoroughly.
Arrange equal amounts of salad greens on four salad plates. In the following order, top with equal amounts of onion, roasted vegetables, raisins, and pecans. Spoon vinaigrette evenly over all. Serve immediately for peak flavors.

Nutritional Info Per Serving:
Calories: 165
Protein: 2 g
Fat: 12 g
Sodium: 185 mg
Cholesterol: 0 mg
Saturated Fat: 1 g
Dietary Fiber: 3 g
Carbohydrates: 14 g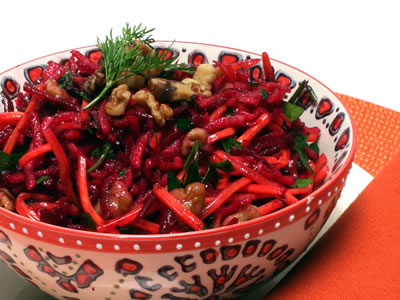 Beet, Carrot and Apple Salad
Makes 4 servings.
Ingredients
1 medium beet (or 3/4 cup pre-shredded)
2 medium carrots (or 3/4 cup pre-shredded)
1 large peeled Granny Smith apple
1/4 cup walnut halves, chopped
3 Tbsp. chopped flat-leaf parsley or dill or combination
1 Tbsp. fresh lemon juice
1/2 tsp. salt
Freshly ground black pepper
1 Tbsp. extra virgin olive oil
Directions
To shred beet, insert each hand in plastic sandwich bag to avoid staining hands. Peel beet using swivel blade vegetable peeler. Using coarse side of box grater, shred beet to get 3/4 cup. Save remaining beet for another use. Shred carrots and apple. Place shredded beets, carrots and apple in mixing bowl and mix to combine. Add walnuts and green herbs on top of mixed vegetables, and set bowl aside.
For dressing, in small bowl whisk together lemon juice and salt until salt dissolves. Add 3-4 grinds of pepper. Whisk in oil. Pour dressing over salad and mix until well combined and evenly dressed. Serve salad within 1 hour of combining with herbs and dressing.

Nutritional Info Per Serving:
112 calories
8 g total fat
les than 1 g saturated fat
11 g carbohydrate
2 g protein
2 g dietary fiber
330 mg sodium
Spinach Salad with Creamy Beet Dressing
Makes 2 servings.
Content Continues Below ⤵ ↷
Ingredients
1/2 cup finely chopped, drained canned beets, or vacuum-packed cooked beets (see note)
1 1/2 tsp. Dijon-style mustard
1 1/2 tsp. apple cider vinegar
4 Tbsp. fat-free, reduced-sodium chicken or vegetable broth, divided
1 Tbsp. extra virgin olive oil
Salt and ground black pepper, to taste
1 1/2 ounces French green beans
3 cups baby spinach
2 medium endives, cut crosswise into 1/2-inch slices, about 1 cup
2 tablespoons sweet onion, cut in very thin crescents
1 small roasted or cooked beet
Directions
For dressing, place beets, mustard, vinegar and 2 tablespoons of broth in blender and whirl until smooth, stopping to scrape down sides of blender as needed. With the motor running, pour in remaining broth, then oil. Season dressing to taste with salt and pepper. Makes 3/4 cup thick dressing. Dressing can be made ahead and refrigerated, tightly covered, for 24 hours. If necessary, before using, thin chilled dressing with additional broth and adjust the seasoning.
Cook green beans in boiling water for 2 minutes. Drain and plunge immediately into bowl of cold water. When beans are cool, drain well and set aside.
In mixing bowl, combine spinach and endive, then divide between 2 salad plates or wide, shallow bowls. Sprinkle onions over greens, then add green beans.
Cut beet crosswise into thin slices. Cut each slice into matchsticks and sprinkle over salad. Drizzle on 3 tablespoons of the dressing. Serve immediately.

Note: When buying beets in a can or jar, be sure they are not pickled.

Nutritional Info Per Serving:
Calories: 86
Protein: 3 g
Fat: 4 g
Sodium: 119 mg
Saturated Fat: under 1 g
Carbohydrates: 11 g