Most experts recommend the open pan, dry heat roasting method as the easiest and most reliable of all cooking methods for a whole turkey or turkey breast. This procedure results in a juicy, tender and flavorful golden brown turkey. One of the key factors of such a simple roasting procedure is the type and size of the roasting pan.
To properly roast a turkey, use a shallow, heavy-weight roasting pan. A shallow roasting pan should be used so the oven heat can flow completely around the turkey. Pans with sides higher than 1 to 2 inches will shield the thickest part of the turkey thighs from the oven heat and the thighs will not cook evenly.
The turkey should fit comfortably into the roasting pan. Select a pan that is at least 2 inches longer and wider than the turkey. A smaller proportion might result in turkey juices dripping into the oven. A larger proportion might cause the pan juices to burn.
Light weight disposable aluminum pans should not be used for roasting the turkey because the pans are simply too light weight to support the bird. Spills may occur when the hot turkey and juices are removed from the oven.
Be sure to use a rack to hold the bird out of its own juices and to allow the heat to reach the underside of the bird. If the turkey sits directly on the bottom of the pan, the juices will cause those portions of the turkey, which come into contact with the liquids, to steam-cook rather than roast.
Content Continues Below ⤵ ↷
The V-shaped rack is the best, since it supports the turkey firmly while allowing heat to circulate underneath for better browning. For easier cleanup, add 1/2 to 3/4 cup of water, broth and/or dry white wine to the bottom of the pan. The addition of the broth or wine will enhance the flavor of the gravy.
The oven broiler pan that is part of your standard kitchen utensils makes an acceptable roasting pan as long as the turkey is elevated from the bottom of the pan. Place the wire rack in the bottom of the broiler pan to keep the turkey out of the juices.
This is a popular Cuisinart 7117-16UR Chef's Classic Stainless 16-Inch Rectangular Roaster with Rack with adjustable nonstick rack that you can use to cook a chicken, a small turkey, or a pork loin.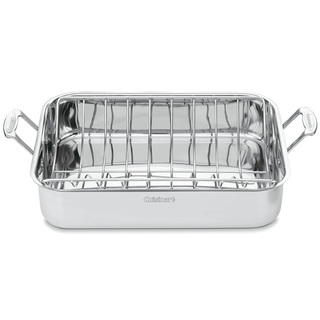 The rack helps your food cook more evenly because it's not in contact with the bottom of the roaster and cooking more quickly than the rest of the roast. The rack also helps drain excess fat from your food as it cooks for a healthier meal. It is available from Amazon.com.