Shirataki Spaghetti Recipes
Home / Diabetic Recipe Archive / Shirataki Recipes
Shirataki Spaghetti Recipes
Shirataki spaghetti, made from konjac, is a zero carb, zero calorie product that also provide fiber. There are a number of ways you can prepare shirataki spaghetti, but you do not cook it in the same way you cook traditional pasta. These recipes include shirataki spaghetti as an ingredient and provide nutritional information, such as calories and carbs, for easier diabetic meal planning.
Shirataki Spaghetti Recipes
Latest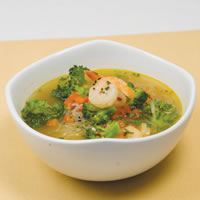 Recipe for Shrimp and Skinny Noodles Soup from our Soups recipe section.
All Recipes from this Category