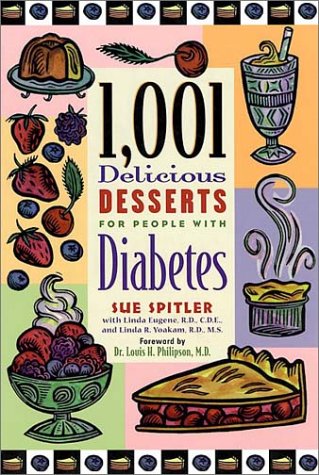 1,001 Delicious Desserts for People with Diabetes presents a wide range of desserts suitable for a diabetic diet. Its palate-pleasing illustrations and recipes include Peanut Butter Cupcakes and Double Coconut Cream Meringue Pie. Each recipe adheres to nutritional guidelines.
You're going to love the next two cookbooks, folks! Now you can literally have 1,001 Delicious Recipes for People With Diabetes and 1,001 Delicious Desserts for People With Diabetesin two separate cookbooks. Both books are published by Surrey Books and they are HUGE, the first having over 800 pages and the DESSERTS over 600 pages! Sue Spitler, a terrific cookbook author in her own right, has teamed up with Linda Eugene, RD, CDE, and Linda R. Yoakam, RD, MS, to bring us this bonanza of delectable recipes. Wow! Just think, if you tried a new recipe from one of these great books every day, it would take you through almost six years of delicious dining!
Fat is what makes food taste good -- and oh how we all love those zesty pastas and rich gooey desserts! "For a person with diabetes and no healthy cooking experience, the larder may look a little lean," says coeditor and professional cook Sue Spitler (whose other books in the 1,001 series are bestsellers). "It's important to choose foods that are low in fat, moderate in carbohydrate, low salt, high fiber and rich in vitamins and minerals. The key is the recipe... you need to cook with enough flavor to make you feel satisfied." And guess what? That's exactly what this cookbook writing trio has brought to this magical set of cookbooks!
Promising "no more boring meals," just imagine having Artichoke-Stuffed Appetizer Bread, Roast Chicken With Cornbread Stuffing, Shrimp and Sausage Gumbo, Vegetable Strudel With Cheese, Crab Melts or Sweet Stuffed French Toast on your menu. But wait, what about dessert? Well, how about Mississippi Mud Bars, Macadamia Nut Cheesecake, Pineapple And Double Cheese Upside Down Cake, Banana Cinnamon Cake With Powdered Sugar Glaze, or Deep Dish Blackberry Cobbler With Lemon Hard Sauce? With over 2,000 recipes, these books deliver as promised! I don't want to hear any more whining about "not being able to eat anymore" just because you've been diagnosed with diabetes. If your budget was limited and you could only have two cookbooks, invest in these two and never look back! Or, put them on your wish list -- these two cookbooks are fabulous! Five enthusiastic stars out of five!!
Book Details:
Author:

Sue Spitler


Publisher:

Surrey Books


ISBN:

1572840498


View at: Amazon (see sale price)
Format:

Paperback: 678 pages