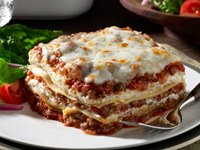 Ingredients

10 Dreamfields lasagna noodles, uncooked
8 ounces lean hamburger
8 ounces mild Italian sausage
1/2 cup onion, chopped
2 cloves garlic, minced
2 cups sliced mushrooms
1 jar (26 ounces) marinara sauce
1 can (14.5 ounces) diced tomatoes with basil, garlic and oregano
1/4 cup water
15 ounces part-skim ricotta
1 egg
1/2 teaspoon salt
1/2 teaspoon ground black pepper
1/2 cup grated Parmesan cheese
1-1/2 cups shredded part-skim Mozzarella cheese

Directions

In a large skillet over medium-high heat, brown hamburger and Italian sausage until no longer pink, about 7 minutes. Add onion, garlic and mushrooms and cook for 3 minutes. Add marinara sauce and water and simmer for 10 minutes.
In a medium bowl, mix together ricotta cheese, egg, salt and pepper.
In a deep (12x10x2 1/2-inch), lasagna pan spread 2 1/2 cups of meat sauce. Layer 4 lasagna noodles and place the 5th noodle cross-wise. Spread half of the cheese mixture over the noodles. Sprinkle the Parmesan cheese and 1/2 cup of the Mozzarella cheese. Spread 2 1/2 cups of meat sauce, 5 more lasagna noodles, remaining ricotta cheese, 1/4 cup of Parmesan cheese. Layer the rest of the meat sauce and the rest of the Mozzarella cheese.
Cover with aluminum foil and bake at 375-degrees F for 40 minutes. Uncover and bake for an additional 10 minutes.

Recipe Yield: Serves 12
Nutritional Information Per Serving:
Calories: 321
Fat: 15 grams
Saturated Fat: 7 grams
Fiber: 3 grams
Sodium: 876 milligrams
Cholesterol: 71 milligrams
Protein: 20 grams
Carbohydrates: 0 grams


Source: Dreamfields