Dreamfields Recipes
Home / Trusted Brands
Dreamfields Recipes
Healthy recipes using Dreamfields Pasta, including Dreamfields spaghetti, lasagna, penne, ziti, elbows and linguine. With more fiber and protein than regular pasta, Dreamfields is a health choice for your diabetic meal planning. You'll find recipes using Dreamfields Pasta for summer pasta salads, soups, lasagna, linquine with clam sauce, angel hair pasta with shrimp and much more. If you try any of these recipes, please take a moment to leave a rating for it and share it with friends and family.
Dreamfields Recipes
Latest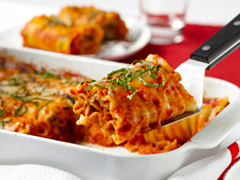 Recipe for Festive Lasagna Roll-Ups with Salsa Rosa Sauce from our Main Dishes recipe section.
Most Downloaded Recipes in this Collection
All Recipes from this Category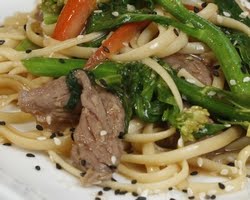 Broccoli rabe (rapini) or broccoli florets may be substituted for the Chinese broccoli. Recipe for Stir-fry with Linguine, Beef and Vegetables from our Main Course recipe section.