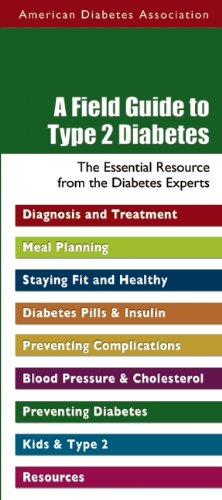 This new book gives you the type 2 diabetes checklists you need, road maps for what to do in various situations, and lists of the proper provisions. You'll discover information about correcting high and low blood sugar, spotting signs of trouble, using the right gadgets to dose insulin or measure your blood sugar, and more.
Coverage also includes:
Obesity
Insulin resistance
Exercise
Medications
Dysmetabolic syndrome
Statistics on costs of diabetes and prevalence by state
Bill Kearney, RPh, pharmacist and owner of North Lake Medical Pharmacy Inc., and co-host of Health Talk on KXBX Radio, Lakeport, California, says, "A Field Guide to Type 2 Diabetes is an excellent book for the patient or family member. It is even more valuable to the diabetes educator who is trying to explain in simple terms a very complicated disease to someone without a medical background."
Midwest Book Review: "A Field Guide To Type 2 Diabetes provides a fine resource covering everything from initial diagnosis to common complications."
Content Continues Below ⤵ ↷
Ruth Mencl, MN, RN, CDE, book reviewer for Voice of the Diabetic: "This book delivers as advertised. Its format is similar to a travel guide, which makes it easy to find the destination (or topic) of choice and go directly to it. Tables and charts allow for a quick reference to facts about laboratory tests or medications. The addition of a personal touch, such as comments from actual patients on topics taken from the ADA web site, give it a unique focus as compared to other diabetes fact books. 'Field Guide' pays special attention to everyday issues that people with diabetes face, such as finding medical services or dealing with a doctor who is not very interested in diabetes. These are issues it might take several years for a patient to address, especially if they don't attend diabetes classes or support groups. This is a comprehensive resource, written by well-known diabetes experts, which serves as a good beginner's guide to the nuts and bolts of diabetes."
Book Details:
Author:

American Diabetes Association


Publisher:

American Diabetes Association


ISBN:

1580401945


View at: Amazon (see sale price)
Format:

Paperback; 250 pages