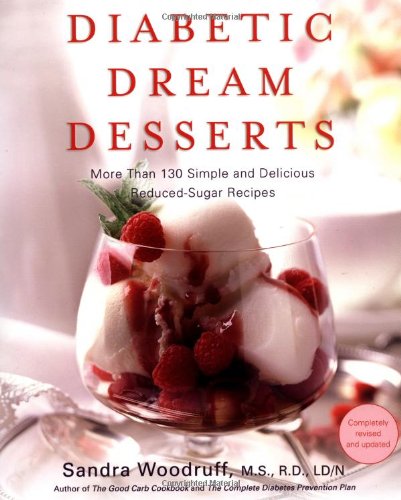 You can still have your cake and eat it, too, with this new edition of a bestselling dessert book for diabetics.
For most diabetics, the hardest part of adjusting to a new way of eating is probably not being able to indulge in the desserts they once enjoyed. Now, diabetics need worry no more! Bestselling author Sandra Woodruff has completely revised and updated her popular Diabetic Dream Desserts, including new and improved recipes for cakes, cookies, brownies, pies, strudels, frozen desserts, and other sweet treats that taste better than ever.
Diabetic Dream Desserts contains more than 130 low- and reduced-sugar dessert recipes for cakes, pies, puddings, cookies, dessert breads, and other sweet treats. You'll find dozens of useful tips for creating and converting your own favorite recipes into more healthful versions, and you'll learn just how using sugar and other nutrients can affect your diabetes. Knowing how a wise diet can contribute to your overall good health will help you keep your symptoms under control.
Each recipe in Diabetic Dream Desserts has a complete (per serving) nutritional analysis along with diabetic exchanges. Included are the secrets to making such tasty delights as "Fudge Cake with Raspberry Sauce," "Cherry-Cheese Kugel," "Molasses Oatmeal Cookies," "Triple Berry Sorbet," "Biscuit-Topped Blackberry Cobbler," "Cranberry-Pecan Bread," and more.
Content Continues Below ⤵ ↷
Unfortunately, we don't have space in this column for sample recipes, so I'm planning to include some of them in the December 2004 issue of the Cinnamon Hearts website. Diabetic Dream Desserts gets a healthy recommendation for having your cake and eating it too!
Book Details:
Author:

Sandra Woodruff


Publisher:

Avery Publishing Group


ISBN:

1583332014


View at: Amazon (see sale price)
Format:

Paperback: 183 pages