Hospital and physician visits can be frightening. The Playmobil Hospital is an excellent toy, as well as an excellent tool, for helping children understand, accept and become comfortable with a medical/hospital setting.
This is a wonderful toy for any child, but especially for a child living with diabetes (or any disability or disease). It is also an intelligent toy for a child with a parent, family member, or friend who requires medical care - such as a family member with diabetes.
The highly detailed and exceptionally furnished Playmobil Hospital brings the constant hustle and bustle of a working hospital into kids' homes so they can work their medical magic.
Original Hospital: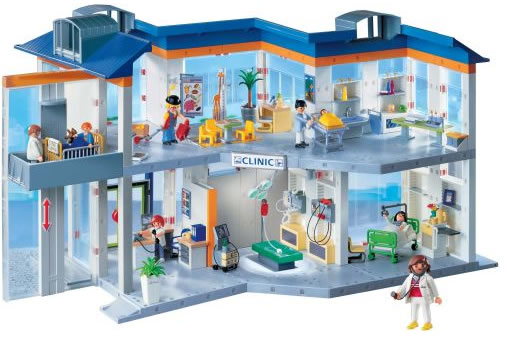 New Hospital Released in 2016. Name: PLAYMOBIL Furnished Children's Hospital Playset (below)

Content Continues Below ⤵ ↷
The ultimate set for doctors in training, the original Playmobil Hospital features a myriad of details with which kids can explore and play, such as a reception area, a children's wing, a baby section, an equipped operating room, a cozy patient room, a working elevator with room to fit a patient bed, and many, many more accessories.
Each room of the Playmobil Hospital has functional and movable furniture to better take care of patients, as well as a friendly, knowledgeable staff that cater to patients' needs and a clown to cheer up patients.
With great details like a patient bed on wheels and an adjustable operating table with overhead lights that tilt, the Playmobil Hospital is the high-tech hospital that leads to healthy imaginative play.
So whether kids are checking in patients, working in the operating room, making rounds in the children's wing, or taking care of babies, the Playmobil Hospital has everything you need to care for ailing patients
Features
Original Hospital features 8 figures, a reception area, a children's wing, a baby section, an equipped operating room, a patient room, a working elevator, and more
Each room has functional and removable furniture
Also includes bed on wheels, an adjustable operating table with overhead tilting lights, and more
Measures approximately 20"Lx29"Wx15"H
Sources
There is also an extensive collection of accessories and add-ons that include everything from an ambulance to a well-stocked hospital room. Here are just a few of the available accessories:
Playmobil 7921 Hospital Ward

Playmobil Doctor with Incubator

Playmobil Operating Room

Pediatrician

Playmobil Wheelchair with Patient

Child with Wheelchair (new) - Original: Playmobil Child with Wheelchair (4407)

Playmobil Ambulance


New Version Available: PLAYMOBIL Rescue Ambulance

Playmobil Medical Helicopter

Content Continues Below ⤵ ↷

Playmobil Emergency Vehicle

New: PLAYMOBIL Dentist with Patient Playset
Original: Playmobil Dentist`s Office

Playmobil, Growing Tree Toys, Amazon.com