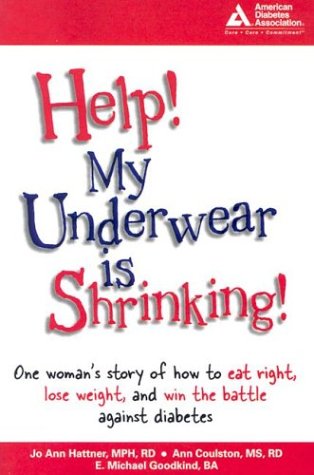 "Uh oh, my underwear is shrinking!" We'd like to believe that, wouldn't we? Standing in front of the mirror, ample belly and thighs stretching the fabric of over-worked undergarments ... we'd like to believe that it was the underwear doing the shrinking and not our bodies doing the growing. Unfortunately, that's not usually the case. But why? We try to eat right, we try to exercise. Where are all of these extra pounds coming from? As this book will show you, from some often overlooked and unexpected places. And to make things painless, you'll learn from someone else's experience -- the easiest and best way to understand something new.
So what are you waiting for? Make that underwear grow, not shrink. Fit into pants you haven't worn in years (they're probably back in style). Stop feeling helpless about your weight and your diabetes. With Help! My Underwear Is Shrinking!, you've got all the tools you need to drop pounds and get your diabetes under control.
On a slightly lighter note, Help! My Underwear Is Shrinking! by Jo Ann Hattner, MPH, RD, Ann Coulston, MS, RD, and E. Michael Goodkind, BA, is written for overweight people who are prone to adult onset diabetes, have been diagnosed with Type 2 diabetes or are faced with the risk of diabetes.
Enter Tiffany, a working mother with pounds to lose and a family history of diabetes, who has recently been diagnosed with Type 2 diabetes. Step by step, you'll accompany Tiffany on her journey to a successful weight loss, healthier lifestyle and a better understanding and management of her diabetes through her participation in the Carbohydrate Countdown program.
Did you know that buying bulk foods can undermine your weight-loss efforts? Do you know how to make a food inventory, develop a carbohydrate budget, read food labels, develop an exercise program or find support needed for your success? How about handling the holidays or eating out despite your diabetes? You'll find all the answers and more in this very identifiable heroine's journey to a healthier lifestyle.
This dynamic and enjoyable book is a good read which you can easily consume in a couple of hours. The Appendices featuring a Carbohydrate Countdown Catalog, Sample Menus and a number of reliable resource references and Internet links are also noteworthy. Published by the American Diabetes Association, this little book is a good choice, especially if you're challenged with shrinking underwear!
Book Details:
Author:

Jo Ann Hattner


Author: Ann Coulston
Author: E. Michael Goodkind
Publisher:

McGraw-Hill


ISBN:

1580401791


View at: Amazon (see sale price)
Format:

Paperback: 137 pages