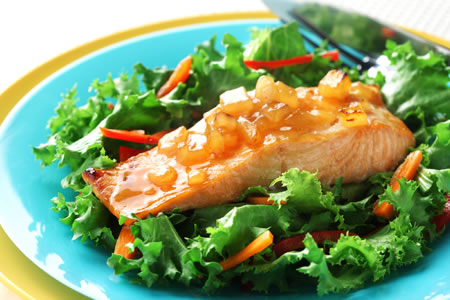 Ingredients
1/3 cup orange juice
1 Tbsp finely minced ginger
2 tsp canola oil
2 tsp low-sodium soy sauce
6 salmon fillets (4 oz each)
2 Tbsp hot mango chutney
1 Tbsp orange juice
Directions
In shallow bowl or re-sealable plastic bag, combine 1/3 cup orange juice, ginger, canola oil and soy sauce. Completely coat salmon fillets with orange juice mixture. Marinate in refrigerator for 4 hours. Remove salmon and discard marinade.
In small sauce pan or microwave-safe small bowl, combine mango chutney and remaining 1 Tbsp orange juice; warm to liquefy chutney.
Preheat oven to 375F (190C). Lightly spray baking sheet with canola oil cooking spray. Place salmon fillets on baking sheet. Brush with chutney mixture.
Bake in preheated oven for 10-12 minutes or until fish is opaque and flakes easily with fork.

Recipe Yield: Yield: 6 servings.Serving Size: 1 fillet
Nutritional Information Per Serving:
Calories: 170
Fat: 6 grams
Saturated Fat: 1 grams
Sodium: 170 milligrams
Cholesterol: 60 milligrams
Protein: 23 grams
Carbohydrates: 5 grams


Source: CanolaInfo
Recipe and image appear courtesy of CanolaInfo.org.