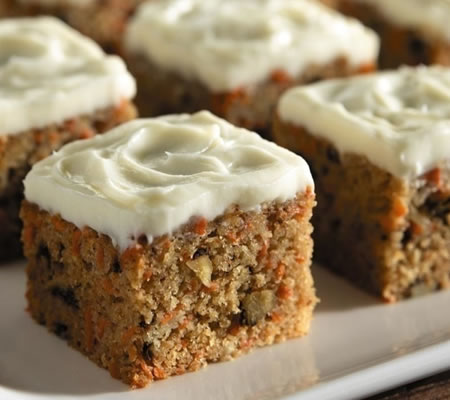 Ingredients
7/8 cup all-purpose flour
1 teaspoon baking powder
1/2 teaspoon baking soda
1/2 teaspoon salt
1/2 teaspoon ground cinnamon
1/4 teaspoon ground allspice
2 large egg whites
1/4 cup eggbeaters
3/8 cup Splenda No Calorie Sweetener, Granulated
3 tablespoons reduced fat margarine
1/2 cup honey
1 teaspoon vanilla extract
3 tablespoons unsweetened applesauce
3 tablespoons canola oil
2 1/4 cups finely shredded carrot
1/3 cup walnuts
butter flavored cooking spray
Directions
Preheat oven to 350 degrees F. In medium bowl whisk together flour, baking powder, baking soda, salt, cinnamon, and allspice. Set aside.
In small bowl whisk together egg whites and eggbeaters. Set aside.
In large bowl beat Splenda Granulated Sweetener, margarine, honey, vanilla, applesauce, and canola oil. Mix in egg mixture, stir until well mixed. Stir in flour mixture, then carrots and walnuts.
Pour into greased 8 cup loaf pan and bake for 40-45 minutes, or until toothpick inserted comes out clean. Allow to cool, ice if desired.
Notes:
A great classic dessert and it has less carbs.

Recipe Yield: Yield: 10 servings
Content Continues Below ⤵ ↷
Nutritional Information Per Serving:
Calories: 190
Fat: 9 grams
Saturated Fat: 1 grams
Fiber: 2 grams
Sodium: 270 milligrams
Protein: 4 grams
Carbohydrates: 26 grams
Sugars: 16 grams


Source: Splenda
Recipe and image appear courtesy of Splenda.