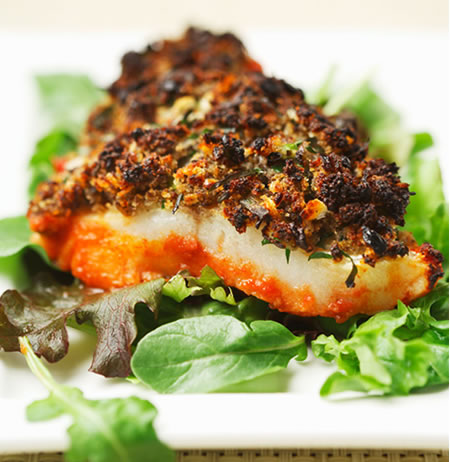 Ingredients
8-oz fresh mushrooms (ie: Porcini, Shitake, Bolete, White, Baby Bella, Morels)
1 shallot, finely chopped
4 green onions, chopped
2 Tbsp chopped fresh parsley
1 tsp chopped fresh thyme
1/4 tsp salt
1/4 tsp pepper
3/4 cup dry bread crumbs
2 Tbsp canola oil
1 can (14oz) low-sodium crushed tomatoes
1 Tbsp balsamic vinegar
1-1/2 lb Cod fillets (or other white fish fillet, such as halibut, haddock or tilapia), about 4 oz each
Directions
Preheat oven to 400F (200C).
In food processor, mince mushrooms until finely chopped.
In large, dry saucepan, cook mushrooms over medium heat until moisture is gone and mushrooms are lightly browned, about 5 minutes.
Remove from heat and add shallots, green onions, parsley, thyme, salt, pepper, bread crumbs and canola oil. Mix well. Set duxelles mixture aside.
In a lightly oiled 9x13-inch (22x33-cm) baking pan, spread crushed tomatoes. Stir in balsamic vinegar. Place fish fillets on top of tomatoes. Spoon duxelles mixture over fish, covering fillets.
Bake for 15 to 20 minutes until fish flakes easily with fork and mushroom mixture is lightly browned.
Notes:
This family-friendly recipe features a mild, flaky white fish topped with a classic French combination of chopped mushrooms, shallots and fresh herbs.

Recipe Yield: Yield: 6 servings.Serving size: 1 fish fillet
Content Continues Below ⤵ ↷
Nutritional Information Per Serving:
Calories: 240
Fat: 8 grams
Saturated Fat: 1.5 grams
Fiber: 2 grams
Sodium: 350 milligrams
Cholesterol: 55 milligrams
Protein: 27 grams
Carbohydrates: 17 grams


Source: CanolaInfo
Recipe and image appear courtesy of CanolaInfo.org.