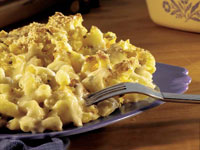 Ingredients

1 package Dreamfields Elbows
1 tablespoon olive oil
1/4 cup chopped white onion
1 clove minced garlic
1 tablespoon chopped fresh parsley
1-1/2 cups half & half
1 cup 1% milk
1 teaspoon each salt, pepper and nutmeg
Nonstick cooking spray
1-1/2 cups fontina cheese, shredded
1 cup non-fat cheddar cheese
2 tablespoons Parmesan cheese

Directions

Heat oil in 12-inch skillet over medium heat; sauté onion, garlic and parsley for 3 to 5 minutes, stirring occasionally. Add half & half and milk, season with salt, pepper and nutmeg. Cook for 10 minutes, stirring occasionally.
Meanwhile, cook pasta according to package directions. Pre-heat oven to 425-degrees F. Spray a 9x13-inch casserole baking dish with nonstick cooking spray.
Toss pasta and sauce together. Add fontina and cheddar cheeses; stir until well blended and pour into casserole dish. Top with Parmesan.
Bake uncovered for 20-25 minutes or until golden brown. Let cool for 5 minutes before serving.

Recipe Yield: Makes 8 side dish servings.
Nutritional Information Per Serving:
Calories: 354
Calories from fat: 39
Fat: 14 grams
Saturated Fat: 8 grams
Fiber: 4 grams
Sodium: 476 milligrams
Cholesterol: 52 milligrams
Protein: 19 grams
Carbohydrates: 0 grams


Source: Dreamfields