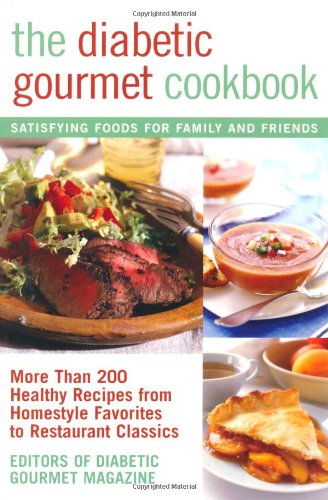 Format: Adobe Reader
File Size: 1033K
Mac OS Compatible: This title requires Adobe Reader 6.x, which requires Mac OS 10.2 and above.
Windows Compatible: Yes
Handheld Compatible: Adobe Reader supports transfer of e-books to PalmOS devices, but not to Pocket PC or Symbian devices.
Publisher: John Wiley & Sons, Inc.; ISBN: B0002FGYF8; (May 2004)
First of all, don't let the title of this book scare you. While The Diabetic Gourmet Cookbook has been designed to meet the needs of people living with diabetes, it really is a cookbook for everyone that appreciates great food. With over 200 recipes that are perfect for everyday meals, as well as for entertaining, The Diabetic Gourmet Cookbook makes a wonderful, thoughtful addition to any cookbook collection.
The recipes we have prepared are carefully portioned original creations, as well as modified versions of traditional favorites. They were created with a close eye on fat, calories, sodium, carbohydrate and, last but definitely not least, taste. Complete with detailed nutritional information that includes diabetic food exchanges, readers can effectively and safely adhere to their meal plans or diets while enjoying delicious food. Even if you don't have diabetes or special dietary needs, you'll be able to feel good knowing that the food you're eating or serving to your family is as healthful as it is delicious.
The editors of Diabetic Gourmet Magazine have long operated with the belief that the diabetic diet should be seen as selective, not restrictive. They also understand that while it is necessary for people living with diabetes to regulate their eating habits, it is unrealistic to expect them to suddenly not have a taste for certain types of food. By including healthier versions of the types of dishes that some would say helped them down the road to developing diabetes in the first place, The Diabetic Gourmet Cookbook addresses realistic food preferences in addition to healthy eating guidelines.
That's why this collection of mouth-watering dishes includes healthy versions of crowd pleasers like chocolate chip pancakes, cranberry scones, huevos rancheros, potato skins, pot roast, veal piccata, penne ala vodka, pasta e fagiole, spinach bruschetta, macaroni and cheese, Greek gyros with tzatziki sauce, peanut butter cookies, banana cream pie, baklava, hazelnut chocolate cheesecake and pecan winter waffles.
Keep in mind, the recipes that appear in The Diabetic Gourmet Cookbook are original recipes that do not appear in The Diabetic Gourmet Magazine, The Diabetic Newsletter or The Daily Diabetic Recipe -- so the only way to get your hands on these fantastic recipes is to get your hands on the cookbook!
Content Continues Below ⤵ ↷
The Diabetic Gourmet Cookbook is a cookbook. We intended for it to focus on recipes while only providing the most basic information about diabetes, health and meal planning. There are plenty of fantastic books and resources dedicated to diabetes and nutrition that provide in-depth, practical and clinical information. We strongly advise anyone living with diabetes to buy a comprehensive book about the disease, preferably one that is endorsed by the American Diabetes Association.
The Diabetic Gourmet Magazine is the premiere online magazine dedicated to diabetes-related health issues and diabetic-friendly cooking. Their critically-acclaimed publications reach over 2.5 million readers, including several free subscriptions.
Book Details:
Author:

Diabetic Gourmet Magazine


Publisher:

Wiley & Sons


ISBN:

0471393266


View at: Amazon (see sale price)
Format:

e-book (Adobe Reader)