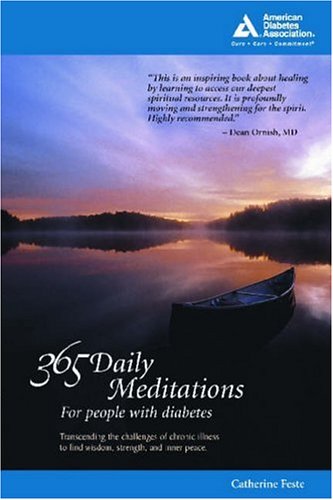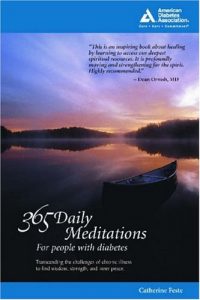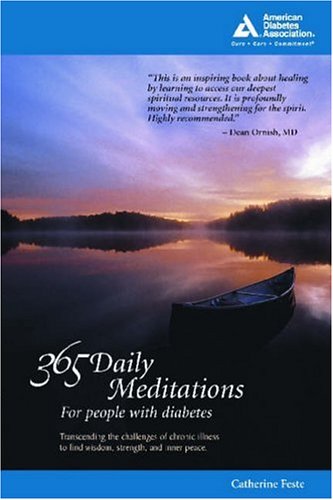 365 Daily Meditations for People with Diabetes features one meditation for each day of the year. This inspiring book provides people with diabetes a way to tackle each day with a positive attitude.
Making a commitment to change begins with a dedicated and positive mindset, so the first book on my December list of recommendations is 365 Daily Meditations For People With Diabetes, by Catherine Feste, published by the American Diabetes Association.
Catherine speaks from her own experience of over 30 years as a health educator, and from the heart with her personal experience of living with diabetes for 47 years. Author of The Physician Within and coauthor of 101 Coping Tips For People With Diabetes, Catherine Feste is one of my favorite inspirational authors.
Special features of 365 Daily Meditations include:
Content Continues Below ⤵ ↷
One meditation for every day of the year which will help you to reflect on what really matters most in your life
Inspirational quotes from famous people as well as quotes from the Bible, the Koran, Buddha and Rumi to help you find understanding, inner strength and spiritual peace with your life in order to better cope with your illness
Practical diabetes tips and healthy ways of coping with stress and strong emotions
A guide to your inner resources and strengths, i.e., being able to see yourself as a hero, not as a victim
A book you can use as a practical guide to help you to move beyond day to day obstacles so you can gain a deeper understanding of your life and the challenges that living with diabetes presents
I've long believed that the mind and body are inseparable when coping with a chronic disease. The introduction to 365 Daily Meditations is written by Rachel Naomi Remem, MD (another favorite on my bookshelf), bestselling author of Kitchen Table Wisdom and My Grandfather's Blessings.
Dr. Remen succinctly sums up the whole of this book in stating, "Through illness, people may come to know themselves for the first time, to recognize not only who they really are but what really matters. Illness shuffles the hierarchy of our values like a deck of cards. Often a value that has been on the bottom of the deck for years turns out to be the top card.
In illness, people abandon values that they have never questioned before, and uncover ways of living far more genuine and unique. Often these ways are also more soul-infused." Dr. Remen further states, "In all the years that I have listened to people with cancer, no one has ever said to me that if they died, they would miss their Mercedes, even though such a car and all that it represents has been the focus of their lives for many years. This shift may represent a kind of healing."
365 Daily Meditations, by Catherine Feste, is a wonderful book which will help you to find your way if you are newly diagnosed or if you have many years of experience with diabetes. I highly recommended this book as a must-have for anyone searching for inner strength to cope with a chronic disease.
Save
Book Details:
Author:

Catherine Feste


Publisher:

American Diabetes Association


ISBN:

1580401457


View at: Amazon (see sale price)
Format:

Paperback: 268 pages