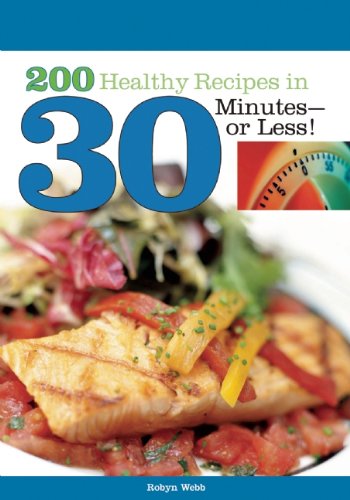 Tired of juggling healthy cooking with the time crunch in today's busy schedules? Ready to make something spectacular out of those dusty foodstuffs in your pantry?
If so, then Robyn Webb's 200 Healthy Recipes in 30 Minutes or Less! is the cookbook for you.
From quick and easy family favorites, like Best Oven-Fried Chicken, to sumptuous treats, such as Chocolate Spice Pudding, you'll never run out of tasty, healthy meals for you and your family.
You'll also rediscover your passion for grilling, with 23 recipes containing marinades and grilling instructions. And the two weeks' worth of complete menus for any occasion, each with its own individualized recipes, will allow you to entertain guests, share a romantic dinner, or feed a hungry family with ease.
Complete nutritional information and exchanges are also included with each recipe for your convenience.
Book Details:
Author:

Robyn Webb


Publisher:

Small Steps Press


ISBN:

1580402267


View at: Amazon (see sale price)
Format:

Paperback: 268 pages