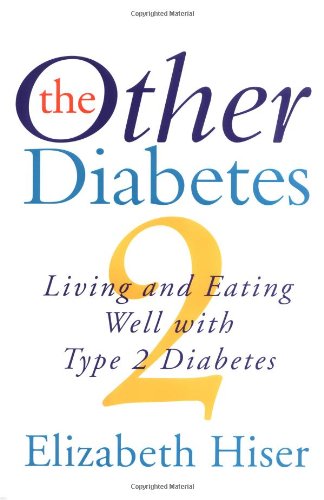 Author Elizabeth Hiser offers a consumer guide to type 2 diabetes, the more common and less well-understood form of the disease. Of the estimated 16 million cases of diabetes in the United States today, nine out of ten are the "other" diabetes, type 2, the kind related to too much rather than too little insulin. The Other Diabetes reviews how genetics, excess calories, and a sedentary lifestyle contribute to type 2 diabetes; how insulin resistance is the hallmark of the disease; how people can lose weight and keep it off; how exercise can work for anyone; and how to avoid the most lethal complication of type 2 diabetes - early death from heart disease. The Other Diabetes is also a comprehensive nutrition handbook.
The Other Diabetes : Living and Eating Well With Type 2 Diabetes
, by Elizabeth Hiser, MS, RD.
Did you know that more often than not, Type 2 diabetes is characterized by too much rather than too little insulin? When my own MD gave me a C-peptide test, I was astonished to find that I had a system fully capable of producing large amounts of insulin, as opposed to those who have the less-common Type 1 (insulin-requiring) life-threatening diabetes. In fact, nine out of ten cases in the US are Type 2 (adult and now childhood-onset) diabetes, which typically starts out with high insulin levels.
By now, most of us know the drill: Excess calories and a sedentary lifestyle are major contributors to Type 2 diabetes; insulin resistance is the hallmark of the disease; and losing excess weight combined with regular exercise is necessary to avoid the most lethal complication of Type 2 diabetes -- early death from heart disease.
Elizabeth Hiser, a health writer and one of the founding editors of Eating Well Magazine (a favorite of mine which is now out of publication), offers the reader a consumer guide to Type 2 diabetes by debunking "quick-fix" diets that don't work, and "just thinking about exercise" more than actually doing it (did someone call my name?)
Content Continues Below ⤵ ↷
In The Other Diabetes, Hiser reviews the latest findings on fats, fiber, carbohydrates, alcohol and supplements, as well as recommending the optimal plan for controlling diabetes through a Mediterranean-style eating pattern, which she calls the Good Fat Diet. This eating pattern is based on extensive research supporting the fact that a diet rich in the mono-unsaturated and omega-3 fats is ideal for controlling both diabetes and heart disease. I've recently switched to the newer, more simplified carbohydrate counting for controlling my own diabetes, and was pleased to see that Ms. Hiser has included a section on this method.
Given the author's background in nutrition, there are many excellent recipes which fill the second half of the book. Breakfast Cakes, which incorporate nuts, cereal, buttermilk, and fresh (an orange) and dried fruits (apricots) is just one of the recipes which we'll be sharing in the Cinnamon Hearts Spring Recipe Sampler.
Breakfast Cakes, from the Small Meals And Snacks chapter, is designed for busy people on-the-go. Quick-and-easy breakfast recipes, ideas for brown-bag lunches and a variety of snacks emphasize take-along food that is good for you and helps to keep you from becoming so hungry that you "lunge at the next glazed doughnut you happen by." Salads And Vegetable Dishes, Meat-Free Entrees, Almost Vegetarian Entrees, Poultry and Seafood Entrees, and delicious Treat Yourself desserts round out the recipe sections of The Other Diabetes.
Treat yourself to this terrific book, readers. How can you go wrong with recipes from a very popular food magazine editor?
Sample Recipe: Turkey Marsala
Book Details:
Author:

Elizabeth Hiser


Publisher:

Morrow Cookbooks


ISBN:

0688153291


View at: Amazon (see sale price)
Format:

Hardcover: 256 pages