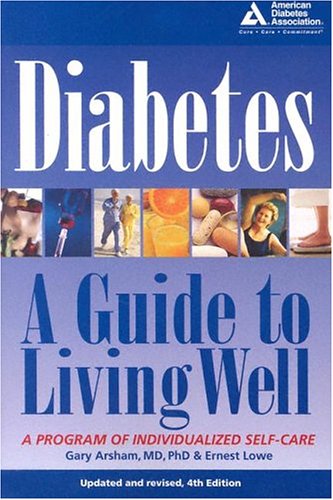 Completely revised and updated to meet current ADA Clinical Practice Recommendations, this book offers patients three levels of commitment, letting them decide which level they can commit to in order to live healthier with diabetes.
Whether you're newly diagnosed or you're just finally ready to tackle your diabetes, you'll want to take a look at Diabetes, A Guide To Living Well (Updated and revised, 4th Edition) by Gary Arsham, MD, PhD and Ernest Lowe. Once again, I'm impressed with how easily these authors have managed to help those of us living with diabetes learn how to take charge of our disease, face its challenges, and prepare to welcome the gift of wellness.
In Diabetes, A Guide To Living Well, the reader is given two different treatment plans (moderate and intense) to consider based on current lifestyle, health (both physical and mental) and level of control. Included are discussions about diabetes medications, emotional issues, heart health (remember, there's a direct link between a heart disease and diabetes) and weight loss, just to name a few.
Chapter 2, "How To Choose Wellness," is one of the best chapters in this book. It is a storehouse of information which will help you become aware of your strengths and resources, uncover your beliefs about diabetes, learn how to neutralize patterns that weaken your ability to care for yourself, handle the feelings that come up as you work toward wellness, and how to create solutions to your problems that really work. This chapter goes a long way in helping you to build a strong foundation for success in living a healthier lifestyle.
Completing the circle of wellness are two special and separate chapters on the unique needs of women and children, introduced at the end of the book. The special needs of just being female are addressed in "Women and Diabetes" (authored by Catherine Feste, author of: 365 Daily Meditations for People with Diabetes) and the special partnership between parent and child in "Children and Diabetes."
Authors Arsham, Lowe and Feste have combined more than 140 years of living well with diabetes to bring you the guidelines and power needed to take over your own diabetes and to create a long and healthy life in Diabetes, A Guide To Living Well. This is an excellent resource for all levels of living with diabetes. Highly recommended.
Book Details:
Author:

Gary Arsham


Author: Ernest Lowe
Publisher:

American Diabetes Association


ISBN:

1580402097


View at: Amazon (see sale price)
Format:

Paperback, 362pp