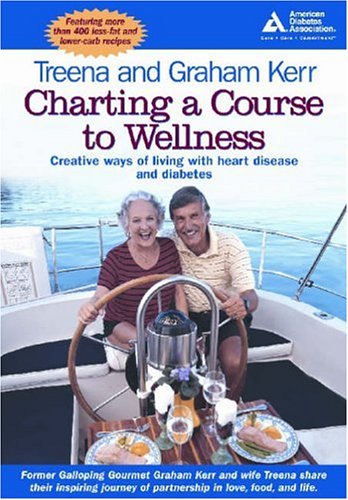 Part autobiography, part cookbook, part inspiration, this book shows how to create a healthy lifestyle and a new way of eating. Celebrity chef and world famous nutrition and healthy eating expert Graham Kerr and wife Treena describe their 33-year journey from an indulgent, destructive lifestyle to one that is healthy and healing, a change made necessary by Treena's heart attack and diabetes.
Readers can use a food preference list to include foods they love in the recipes from the Kerr kitchen. There are 300 great-tasting fruit and vegetable recipes, and 180 recipes from Graham Kerr's highly popular public television show, "The Gathering Place."
In November 2004, the American Diabetes Association focused on the link between diabetes and heart disease for American Diabetes Month. People with diabetes are at high risk for a heart attack or stroke, and their heart attacks tend to be more serious and can happen early in life. In fact, two out of three people with diabetes die from heart disease or stroke and both women and men are at risk.
Charting A Course To Wellness, by Treena and Graham Kerr (the former Galloping Gourmet) have teamed up to share their inspiring journey of partnership in love, food, and life with the story of Treena's stroke, heart attack and diagnosis of type 2 diabetes. With a focus on using food to make you well, the Kerrs have learned that it helps tremendously to have a partner in getting well.
Content Continues Below ⤵ ↷
From my perspective, one of the best sections of Charting A Course To Wellness is found in "The Nine Stages of Change," which the authors have broken down as follows:
Stage One: Aware Yet Disinterested
Stage Two: Relative Impact
Stage Three: Concern Leads to Enquiry
Stage Four: Denial
Stage Five: Acceptance
Stage Six: Possibility of Success
Stage Seven: Engagement
Stage Eight: All Things Can Work Together for Good
Stage Nine: Taking Action
The Kerrs have devoted over twenty pages to this formula for success in making the necessary lifestyle changes for maintaining control of diabetes.
Charting A Course To Wellness also provides you with more than 430 ways to learn how to eat right with recipes for breakfast, brunch, main dishes, side dishes, desserts and sauces. Each recipe is lower in fat and carbs and is accompanied by a complete nutritional analysis and diabetic exchanges.
In addition, the book introduces "The Food Preference Sheet," a really innovative food inventory tool which you can use to design your food choices according to tastes, aromas, color, textures and ambience (in serving style). Change isn't so hard when you like the way your food tastes. There's a plethora of creative and innovative ways of looking at food preparation in this book to keep your mouth satisfied and your body on track.
In summarizing the content of Charting A Course To Wellness, Graham and Treena Kerr say it best in their own words: "Food can make you sick, and food can make you well. Getting well is a challenge, and it helps tremendously to have a partner. We have learned that there is no better gift you can give to yourself, to each other, and to your family. With the epidemic of obesity and diseases caused by poor diet in our country, all of us are learning (or relearning) the value of coming home, cooking dinner, and gathering around the table together."
Having reviewed and published many food articles from the American Institute for Cancer Research, I am extremely pleased to see the number of recipes in this book that use foods healthy in phytochemicals and antioxidants (natural cancer-fighting properties found in fresh fruits and vegetables). Charting A Course To Wellness (published by the American Diabetes Association) is well worth your time and gets a super-star rating.
Book Details:
Author:

Graham Kerr


Author: Treena Kerr
Publisher:

American Diabetes Association


ISBN:

1580401988


View at: Amazon (see sale price)
Format:

Paperback: 256 pages