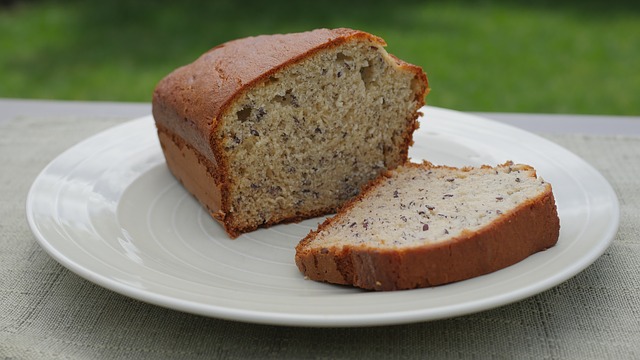 Ingredients

2-1/4 cup all-purpose flour
2/3 cup honey-crunch wheat germ
1/4 teaspoon baking Soda
1/2 cup rolled oats, uncooked
1/4 cup brown sugar, packed
1 tablespoon baking powder
1/2 teaspoon salt
1/2 cup egg substitute, thawed
1/3 cup walnuts, chopped
1 teaspoon vanilla extract
1-1/2 sticks margarine
1-1/2 cup mashed bananas
6 ounce can frozen apple juice concentrate, thawed

Directions

Preheat oven to 350 degrees F.
Grease 9"x5" loaf pan.
In large bowl, mix first 7 ingredients.
With pastry blender, cut in magarine until mixture resembles coarse crumbs.
Stir in bananas, undiluted apple-juice concentrate, egg substitute, walnuts, and vanilla just until flour is moistened.
Spoon batter into pan.
Bake 60 minutes or until toothpick inserted into center of bread comes out clean.
Cool bread in pan on wire rack 10 minutes; remove from pan and cool slightly.
Serve warm, or cool completely to serve later.

Recipe Yield: Prep Time: 15 Minutes
Nutritional Information Per Serving:
Calories: 180
Fat: 5 grams
Sodium: 135 milligrams
Carbohydrates: 15 grams

Content Continues Below ⤵ ↷
Diabetic Exchanges
1 Bread; 1 Fruit; 1 Fat

Source: The Diabetic Newsletter