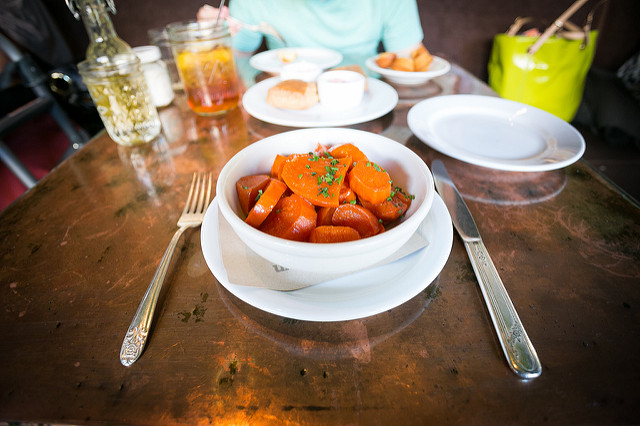 Ingredients
6 medium yams, boiled in skin until tender (about 20 – 30 minutes)
1/3 cup raisins*
1 Tbsp brown sugar
3 Tbsp sugar substitute
2 tsp cinnamon
1/2 tsp nutmeg
Ground cloves to taste
1/3 cup low-calorie margarine
1 cup cold water
Directions
Preheat the oven to 350F.
Cool yams, peel, and slice lengthwise.
Place the yam slices in a covered baking dish. Sprinkle the raisins over the yams.
In a separate bowl, mix the brown sugar, sugar substitute, and spices; sprinkle over the yams. Dot with margarine and add water.
Cover the baking dish and bake for 30 minutes.
Remove the cover, then bake another 15 – 20 minutes.
Note: If you leave out the raisins, it reduces the nutritional information by these amounts: 3.2g carbohydrate; 2.4 g sugars; 12 calories; Fiber 0.2g.


Recipe Yield: 12 servings
Nutritional Information Per Serving:
Calories: 81
Fat: 3 grams
Sodium: 63 milligrams
Protein: 1 grams
Carbohydrates: 14 grams

Content Continues Below ⤵ ↷
Diabetic Exchanges
1 Starch

Source: How to Cook for People with Diabetes. Photo by City Foodsters.
Book Title: How to Cook for People with Diabetes