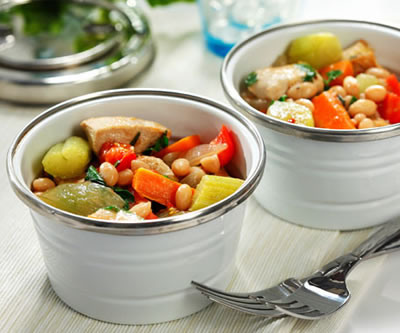 Ingredients
1 Tbsp canola oil
12 oz boneless chicken breasts, cut into 1-inch pieces
1 Tbsp canola oil
1 medium onion, cut in 8 wedges
3 medium carrots, quartered lengthwise and cut into thirds
1 medium celery stalk, cut into 1-inch (2.5-cm) pieces
2 cups water
2 dried bay leaves
1/4 tsp crushed red pepper flakes
1 can (15 oz) reduced-sodium navy beans, rinsed and drained
1 cup grape tomatoes, quartered
1/2 cup chopped fresh Italian parsley
1 Tbsp chopped fresh rosemary
3/4 tsp salt
Directions
In Dutch oven, heat 1 Tbsp canola oil over medium-high heat. Add chicken and cook about 3 minutes per side or until it begins to brown. (Center will still be slightly pink.) Remove from oven and set aside.
Add remaining 1 Tbsp canola oil, onion, carrot and celery. Saute for 5 minutes or until just beginning to lightly brown on edges, stirring frequently. Add water, bay leaves and pepper flakes. Bring to boil over high heat. Reduce heat to medium low and simmer, covered, 20 minutes or until vegetables are tender.
Stir in chicken, beans, tomatoes, Italian parsley, rosemary and salt. Cover and cook 5 minutes or until tomatoes are tender and chicken is cooked.
Notes:
Here's a great one-pot meal to warm and soothe a hungry, weary body after a hard day.

Recipe Yield: 6 servings.
Content Continues Below ⤵ ↷
Nutritional Information Per Serving:
Calories: 220
Fat: 7 grams
Saturated Fat: 1 grams
Fiber: 6 grams
Sodium: 380 milligrams
Cholesterol: 50 milligrams
Protein: 22 grams
Carbohydrates: 17 grams


Source: Recipe by Nancy Hughes. Recipe and photo appear courtesy of Canola Info.