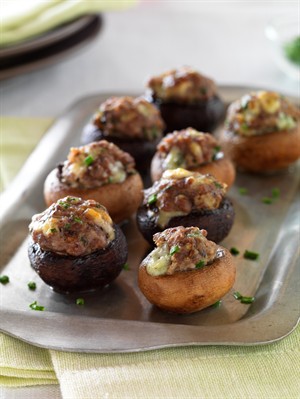 Ingredients

1/2 pound 96% lean ground ground beef
1/4 teaspoon salt
36 small button or cremini mushrooms (about 1-1/2 to 2-inch diameter)
1/3 cup crumbled blue cheese
1/4 cup soft whole wheat bread crumbs
3 tablespoons minced chives
1/2 teaspoon steak seasoning blend
Minced fresh chives (optional)

Directions

Preheat oven to 375F. Remove and reserve stems from mushrooms. Season mushroom caps with salt; set aside. Mince stems to yield 1/2 cup; discard remaining stems.
Combine Ground Beef, minced stems, blue cheese, bread crumbs, 3 tablespoons chives and steak seasoning. Spoon beef mixture evenly into mushrooms.
Place stuffed mushrooms on rack in broiler pan. Bake in 375F oven 15 to 20 minutes. Sprinkle with additional chives, if desired.
Notes:
Perfectly bite-sized mushrooms are stuffed with a savory blend of ground beef, crumbled blue cheese and minced chives.

Recipe Yield: Yield: 36 servings
Content Continues Below ⤵ ↷
Nutritional Information Per Serving:
Calories: 15
Fat: 1 grams
Fiber: 0.1 grams
Sodium: 49 milligrams
Cholesterol: 5 milligrams
Protein: 2 grams
Carbohydrates: 1 grams


Source: TBC
Recipe and photo appears courtesy of Cattlemen's Beef Promotion Board.