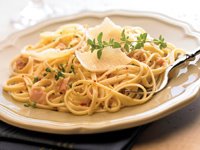 Ingredients
1 box Dreamfields Linguine
1 tablespoon olive oil
1 teaspoon minced garlic
1/2 cup dry white wine
2 cans (6 1/2-ounces each) minced clams, undrained
Salt
Crushed red pepper flakes
Chopped parsley (optional)
Directions
Cook pasta according to package directions.
Meanwhile, heat oil in medium skillet over medium heat. Add garlic; cook 1 minute. Add wine. Increase heat to high and cook 2 minutes. Turn off heat; stir in clams.
Drain pasta. Add to skillet with clam mixture, toss gently. Season to taste with salt and red pepper flakes. Garnish with chopped parsley, if desired. Serve immediately.
Notes:
Linguine with clam sauce is one of our favorite fast and easy classics. Don't underestimate the flavor of this simple sauce.

Recipe Yield: Makes 6 main dish servings.
Content Continues Below ⤵ ↷
Nutritional Information Per Serving:
Calories: 312
Calories from fat: 49
Fat: 4 grams
Saturated Fat: 0.4 grams
Fiber: 5 grams
Sodium: 99 milligrams
Cholesterol: 33 milligrams
Protein: 21 grams
Carbohydrates: 49 grams


Source: Dreamfields