Linguine Recipes
Home / Diabetic Recipe Archive / Pasta Recipes
Linguine Recipes
Linguine is a type of pasta similar to fettuccine and trenette. Instead of being flat, however, it is elliptical in shape. It is wider than spaghetti, but narrower than fettuccine. It originated in Italy, which is why many of the Linguine recipes you find here are based on Italian cuisine. Linguine with Clam Sauce is a popular recipe that is commonly served in restaurants. The recipes featured here include nutritional information for easier diabetic meal planning.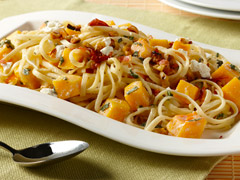 Recipe for Butternut Squash and Linguine from our Main Dishes recipe section.
Most Downloaded Recipes in this Collection
All Recipes from this Category

Recipe for Zucchini and Cucumber Linguine with Clams from our Main Courses recipe section.