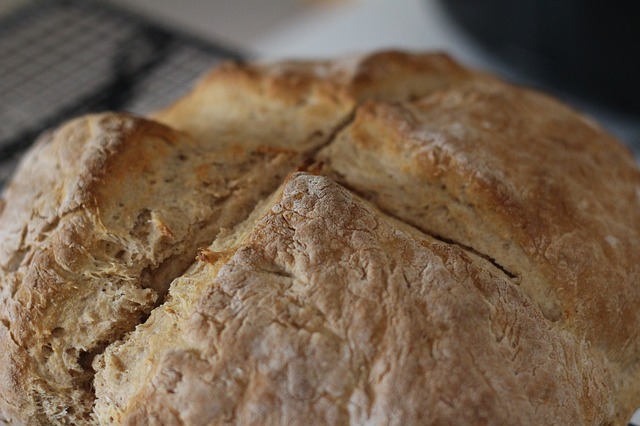 Ingredients

2 cups whole wheat flour
1 cup all-purpose flour
1 tablespoon granulated sugar
1 teaspoon baking powder
1 teaspoon baking soda
1 teaspoon salt
1-1/2 cups buttermilk

Directions

Preheat oven to 400 degrees F. Lightly grease a baking sheet.
In a large bowl, stir together whole wheat flour, flour, sugar, baking powder, baking soda and salt. Add buttermilk all at once, stirring with a fork to make a soft, but slightly sticky dough.
With lightly floured hands, form dough into a ball. On a lightly floured surface, knead the dough gently for 8 to 10 times. Pat the dough into a 6-inch thick round, with a slightly flattened top.
Place dough on prepared baking sheet. With a shape knife or pizza cutter, score the top in the shape of a cross or large X. Bake in preheated oven for 35 to 45 minutes. Remove from baking sheet onto a cooling rack immediately. Dust top with rice flour. Serve warm from the oven.

Recipe Yield: Yield: Makes 1 Round Loaf
Nutritional Information Per Serving:
Calories: 123
Fat: 1 grams
Fiber: 3 grams
Sodium: 335 milligrams
Cholesterol: 1 milligrams
Protein: 5 grams
Carbohydrates: 25 grams

Content Continues Below ⤵ ↷
Diabetic Exchanges
1-1/2 Starch/Bread

Source: America's Everyday Diabetes Cookbook
Book Title: America's Everyday Diabetes Cookbook