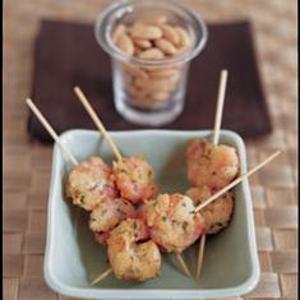 Ingredients

1/2 cup ground almonds
3 tablespoons all-purpose flour
1 teaspoons minced fresh parsley, or 1/2 teaspoon dried
1/2 teaspoon seafood seasoning
1/4 teaspoon salt
1/4 teaspoon black pepper
1 pound (61-to-70 count) shrimp, with tails and veins removed
1 egg white
2 tablespoons almond or corn oil, divided
1 lemon, cut into wedges

Directions

Stir together almonds, flour, parsley, seafood seasoning, salt and pepper.
Dip each shrimp in egg white, then in almond mixture; lay on a baking sheet or platter until ready to cook.
Heat 1 tablespoon oil in a large skillet; grill shrimp in batches on medium heat, cooking 3 to 4 minutes, turning once, until pink and golden.
Use remaining 1 tablespoon oil as necessary. Serve shrimp immediately, accompanied by lemon wedges.
Notes:
If you're seeking a sensational dish inspired by the deep blue sea, you'll love these shrimp coated with fresh parsley, almonds, and other savory seasonings.

Recipe Yield: Yield: 4 servings
Content Continues Below ⤵ ↷
Nutritional Information Per Serving:
Calories: 316
Fat: 15 grams
Saturated Fat: 1.6 grams
Fiber: 2 grams
Sodium: 329 milligrams
Cholesterol: 172 milligrams
Protein: 28 grams
Carbohydrates: 17 grams


Source: Almond Board of California