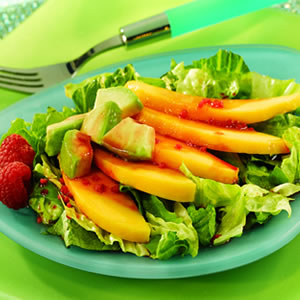 Ingredients

1/2 cup V8 V-Fusion Acai Mixed Berry juice
1/4 cup olive oil
1/4 cup balsamic vinegar
2 tablespoons water
1 tablespoon Dijon mustard
1 clove garlic, minced
1/8 teaspoon ground black pepper
6 cups chopped Romaine lettuce
1 medium mango, peeled, seeded and sliced (about 1 1/2 cups)
1 medium avocado, peeled, pitted and sliced (about 1 1/2 cups)
Fresh raspberries for garnish (optional)

Directions

Beat the V8, oil, vinegar, water, mustard, garlic and black pepper in a medium bowl with a whisk or fork.
Divide the lettuce among 4 salad bowls. Top with the mango and avocado slices. Spoon 2 tablespoons vinaigrette over each salad.
Garnish with fresh raspberries, if desired. Serve immediately.
Notes:
This fresh and nutritious salad of chopped greens, sliced avocado and mango is drizzled with a vibrant vinaigrette dressing.

Recipe Yield: Makes 6 servings
Content Continues Below ⤵ ↷
Nutritional Information Per Serving:
Calories: 122
Fat: 8 grams
Sodium: 49 milligrams
Protein: 1 grams
Carbohydrates: 12 grams