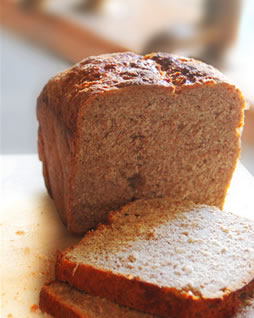 Ingredients

1 teaspoon Fast-rising yeast OR 2 teaspoons Active dry yeast
2 cups Bread flour
1 tablespoon Dry milk
1 tablespoon Sugar
1 teaspoon Salt
1 teaspoon Dried chives
1 teaspoon Marjoram
1 teaspoon Thyme
1 teaspoon Basil
1 tablespoon Margarine or butter
7/8 cup Water (77-95F)

Directions

Place all ingredients in the bread machine in the order suggested in your operator's manual. (If using fresh herbs, double the amount called for.)
Select the white bread mode; press start. This recipe can be made with regular, rapid or delayed-time bake cycles.

Makes one 1-pound loaf, for 16 servings.

Recipe Yield: Makes one 1-lb loaf, 8 slices``16 servings (1/2 slice is 1 serving)
Nutritional Information Per Serving:
Calories: 64
Fat: 1 grams
Sodium: 145 milligrams
Protein: 2 grams
Carbohydrates: 12 grams

Content Continues Below ⤵ ↷
Diabetic Exchanges
2-1/2 Bread/Starch