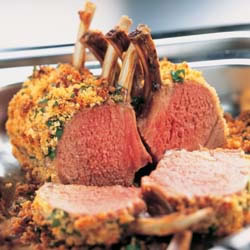 Ingredients

4 cloves garlic, minced
1/2 cup chopped fresh rosemary leaves
1/4 cup chopped fresh mint leaves
salt to taste
freshly ground black pepper
1 rack of New Zealand lamb, fully French trimmed
1/2 cup chopped fresh parsley leaves
1 cup plain bread crumbs
1 tablespoon Dijon mustard

Directions

In a small bowl, mix the garlic, salt, pepper, rosemary and mint together. Rub the mixture over the lamb and refrigerate for an hour or overnight.
Meanwhile, combine the bread crumbs and parsley in a small bowl. Season with salt and pepper and set aside.
Spray a roasting pan with nonstick spray and place it in the oven. Preheat the oven to 500F.
Place the lamb, meat-side down in the hot roasting pan and cook for 10 minutes. Remove the lamb from the oven and reduce the heat to 400F.
Turn the lamb meat-side up and brush the meat with the mustard. Spread the crumb mixture over the mustard and press it onto the meat. Return to the oven and cook for 10 minutes more to brown the bread crumbs.
Let the meat rest for 5 minutes. Carve the racks into chops and serve.

Recipe Yield: Yield: 4 servings. Serving Size: 2 chops
Nutritional Information Per Serving:
Calories: 341
Fat: 12 grams
Saturated Fat: 1 grams
Fiber: 0.5 grams
Sodium: 302 milligrams
Cholesterol: 189 milligrams
Protein: 35 grams
Carbohydrates: 23 grams