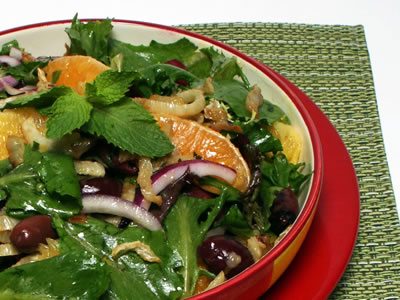 Ingredients

Dressing Ingredients:

1 Tbsp. fresh squeezed lemon juice
1 Tbsp. fresh squeezed orange juice
1 Tbsp. extra virgin olive oil
1/2 Tbsp. Dijon mustard
1 Tbsp. chopped fresh mint
Salt and pepper to taste

Salad Ingredients:

2 medium oranges
1 fennel bulb
1/2 Tbsp. extra virgin olive oil
Salt and pepper to taste
4-6 cups baby greens
1/2 small red onion, halved and thinly sliced
1/4 cup Kalamata olives, pitted, optional

Directions

Whisk all ingredients for dressing, and season with salt and pepper to taste. Set aside.
Cut about 1/2 inch off top and bottom of orange, enough to expose flesh. Stand orange up on cutting board. Using sharp knife, cut down and around orange, removing skin and pith, until no skin or pith remains. Hold orange in one hand over a bowl. With other hand, run small sharp knife along right and left sides of individual sections, loosening and freeing them, one by one, from membranes. Continue until orange is completely sectioned. Discard membrane. Set sections aside.
Rinse and pat fennel dry. Cut about 1/4 inch off bottom of bulb, cut in half and trim out and discard heart. Slice bulb into 1/4-inch slices.
Heat olive oil over medium-high heat in medium skillet. Once hot, add fennel slices, salt and pepper to taste, and cook for 2 to 4 minutes until caramelized and golden on both sides. Add oranges, then toss mixture with 2 tsp. dressing. Remove from heat.
Toss salad greens with onion, olives and remaining dressing. Top salad with golden fennel and toss lightly to combine flavors. Garnish with more mint, if desired.
Content Continues Below ⤵ ↷

Recipe Yield: Makes 4 servings.
Nutritional Information Per Serving:
Calories: 120
Fat: 6 grams
Saturated Fat: 1 grams
Fiber: 5 grams
Sodium: 100 milligrams
Protein: 2 grams
Carbohydrates: 17 grams