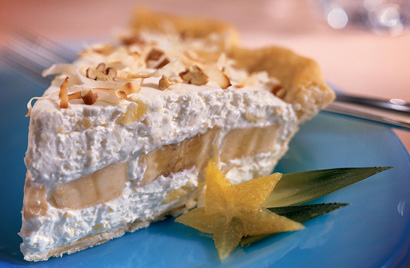 Ingredients

Pastry for single crust 9-inch pie
2 packages (8 oz. each) reduced-fat cream cheese, softened
1/2 cup Equal Spoonful or Granulated*
1 container (8 oz.) light whipped topping, thawed if frozen
1 can (8 oz.) crushed pineapple, well drained
1/4 cup flaked coconut, divided
1/2 teaspoon rum extract
2 medium ripe bananas, cut into 1/2-inch thick slices
1 tablespoon chopped pecans

* May substitute 12 packets Equal sweetener

Directions

Preheat oven to 375F.
Roll pastry on floured surface into circle 1 inch larger than inverted 9-inch pie plate. Ease pastry into plate; trim and flute edge. Pierce side and bottom of pastry with tines of a fork.
Bake 10 to 12 minutes or until lightly browned. Cool completely on wire rack.
Meanwhile, beat cream cheese and Equal in mixing bowl on medium speed of mixer until smooth and well combined. Gradually mix in whipped topping, pineapple, 3 tablespoons coconut and rum extract.
Place half of cream cheese mixture over pie crust. Arrange banana slices in single layer. Top with remaining cream cheese mixture. Sprinkle top of pie with remaining 1 tablespoon coconut and chopped pecans.
Refrigerate 2 to 3 hours before serving.

Recipe Yield: Yield: 10 servings
Nutritional Information Per Serving:
Calories: 272
Fat: 16 grams
Sodium: 199 milligrams
Cholesterol: 29 milligrams
Protein: 6 grams
Carbohydrates: 26 grams

Content Continues Below ⤵ ↷
Diabetic Exchanges
1-1/2 starch, 1/2 fruit, 3 fat

Source: Equal
Recipe and image appear courtesy of Equal.