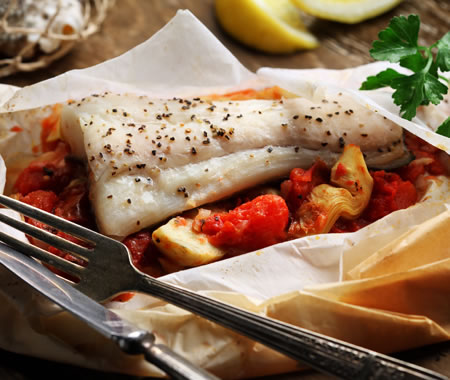 Ingredients

1 Tbsp canola oil 15 mL
1 small yellow onion, finely diced
2 sprigs fresh thyme
2 cloves garlic, minced
1/2 cup dry white wine 125 mL
1 jar (16 oz/455 mL) diced, fire-roasted tomatoes with juice
1 jar (8 oz/227 mL) artichokes, coarsely chopped
4 halibut fillets, 4 oz/125 g each
1/2 tsp fresh ground black pepper 2 mL

Garnish

1 lemon, cut into quarters
2 Tbsp chopped parsley 30 mL

Directions

In large skillet, heat canola oil to medium heat. Saute onions with fresh thyme until soft and translucent, about 3 minutes. Add garlic; cook 1 more minute. Pour in white wine, bring to a boil and cook until almost evaporated. Add tomatoes and simmer for 20 minutes. Stir in artichokes. Remove skillet from heat, remove thyme sprigs and let cool. (This step may be done a day ahead.)
Preheat oven to 450F (230C). Cut four large rectangles of parchment paper (13 x 18 inches/33 x 46 cm each)
Divide tomato-artichoke ragout among parchment paper pieces. Season each halibut fillet on both sides with pepper and place on top of ragout.
Put a few drops of canola oil on top half of each parchment piece and rub it around so fish doesn't stick to it. Fold parchment over fish like book. Start sealing at edge of fold. Working in 2 inch (5 cm) sections, fold about 1/4 inch (0.5 cm) of open edges over and crease tightly. Fold again. Continue working around open edges of parchment, overlapping folded sections slightly. Finish with double fold at end of packet. Make sure folds are creased tightly so they don't open. Repeat to make three more packets.
Place packets on large baking sheet. Bake in preheated oven for 10 to 12 minutes or until fish is opaque. Tear an "X" in top of packet and sprinkle with chopped parsley and lemon juice from 1/4 lemon. Serve immediately.
Notes:
En papillote is French for "in parchment," which is used to steam fish in the oven. Not only does it quickly cook the fish and infuse it with other ingredient flavors, the parchment offers a unique presentation that's sure to impress your guests. They'll never know it only took you 20 minutes to prepare!
Content Continues Below ⤵ ↷

Recipe Yield: Yield: 4 servings.Serving size: 1 fillet.
Nutritional Information Per Serving:
Calories: 250
Fat: 7 grams
Saturated Fat: 0.5 grams
Fiber: 3 grams
Sodium: 220 milligrams
Cholesterol: 35 milligrams
Protein: 27 grams
Carbohydrates: 16 grams


Source: Carla Hall