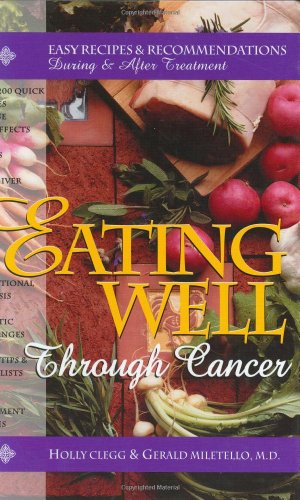 For 15 years, Dr. Miletello, an oncologist, wanted to write a cookbook as one of the most frequently asked questions was, "What should I eat?" Holly Clegg, author of the successful Trim & Terrific cookbook series has answered this question with her common sense approach to cooking and her easy, everyday recipes that has become her trademark for healthy cooking in today's hectic world.
Diet and nutrition are at the top of the list for anyone with a newly diagnosed malignancy. Patients have problems with a loss of appetite and altered taste either before or during treatment. Dr. Gerald Miletello, a practicing medical oncologist, collaborated with cookbook author, Holly Clegg to create Eating Well Through Cancer, a collection of 200 easy recipes to help cancer patients tolerate treatment. As nutritional evaluation and recommendations are daily concerns, practicing oncologist, patients, and families can benefit from this publication. In Eating Well Through Cancer, the personal experience of its authors combine to produce a cookbook that serves as a guide for nutrition before, during and after cancer treatment. Besides the recipes themselves, the book features diabetic exchanges, menu planning, high calorie variations, Doctor's Notes and a section that cross-references recipes and side effects.
Chapters are organized according to the phase of treatment and possible side effects. Additional sections are devoted to long term post treatment healthy eating as well as snacks and suggestions of foods for friends to bring those undergoing treatment. Some chapter titles are more characteristic of a medical encyclopedia, however the recipes resemble anything but hospital cafeteria fare. Although there are a few medicinal recipes from a natural laxative or a basic weight gain shake, Eating Well Through Cancer excels in presenting tasty favorite dishes with a healthy twist. Any patient undergoing chemotherapy will find this book to be an essential asset. The recipes are simple, tasty and easy to prepare. The last Chapter contains healthy nutritious recipes that are aimed at maintaining a smart healthy lifestyle.
Eating Well Through Cancer: Easy Recipes & Recommendations During and After Treatment, by Holly Clegg and Gerald Miletello, M.D., is a very exciting find for diabetics and their caregivers, as well as a treasure trove of ideas, tips, food lists, and recipes to ease treatment side effects as you nurse your loved ones back to recovery.
Holly Clegg had five cookbooks under her belt before she wrote "Eating Well Through Cancer," her latest cookbook (see the review for cookbook number 5, MEALS on the MOVE, below). I had all three of her Trim & Terrific cookbooks in my personal collection before I "re-discovered" her as the Louisiana Sweet Potato Commission's spokesperson when doing an article on sweet potatoes for Cinnamon Hearts in 1999.
"Eating Well Through Cancer" is a complete cookbook for everyone. Each recipe has a thorough nutritional analysis (including carbohydrates), along with diabetic exchanges. Amen! to the fact that serving sizes are not manipulated (reduced to the size of a toothpick) in order to make the analysis fit the author's objectives, either. If there's one pet peeve I have above all others, it's miniscule serving sizes to keep the carb, fats, or calories down! I'd much rather just pass on a sweet treat that needs a magnifying glass to make it visible, in exchange for normal size juicy peach or nectarine in its stead.
A collection of 200 recipes, "Eating Well Through Cancer" includes chapters like Day of Chemo, Neutropenia, Diarrhea, Constipation, Sore Mouth, Snacks, Caregivers and Post Healthy Eating. You can also find menu planning and doctor's notes throughout the book. According to co-author Dr. Miletello, "This is a good, healthy cookbook that can be used by anyone to prepare everyday meals." Given my own limitations due to fibromyalgia, osteoarthritis and diabetes, I appreciate every shortcut I can find in food preparation, especially short and readily availble ingredient lists and minimal preparation getting them into the pan or oven.
Holly's delightful anecdotes and suggestions for her recipes, sometimes in the form of a preparation tip or substitution, sometimes as a menu suggestion, and always a reflection of her professional experience and ability for making healthy food taste terrific, are a welcome resource for this avid recipe collector! Her warmth, charm and passion for her craft is evident throughout the book.
Dr. Gerald Miletello is a board-certified oncologist and has been treating patients for more than 20 uears. Holly Clegg, author of the Trim & Terrific cookbook series, does national media, writes for cooking magazines, and is a frequent spokeswoman and consultant for healthy eating and lifestyles. With nutrition currently being regarded as "the medicine of the future," Clegg and Miletto have hit a bullseye with "Eating Well Through Cancer." Highly recommended for all culinary tastes, levels of experience, and cooking styles.
Book Details:
Author:

Holly Clegg


Author: Gerald Miletello
Publisher:

Holly B Clegg


ISBN:

0961088877


View at: Amazon (see sale price)
Format:

Spiral-bound: 256 pages