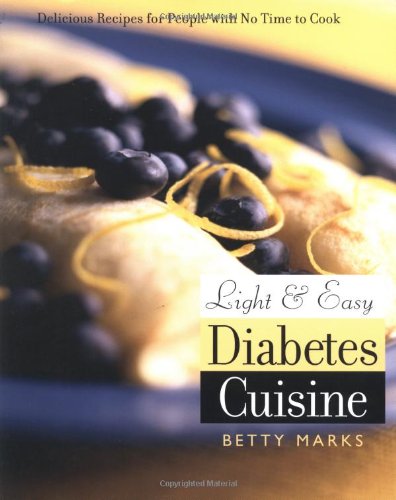 Betty Marks' recipes eliminate foods that pose problems for diabetics, while satisfying the whole family at mealtime. The book features delicious dishes using fresh ingredients, most taking 30 minutes or less to prepare. An analysis of nutrients for each recipe is also included.
Ready for another good find? If you're looking for great recipes because you have no time to cook, then look no further! Light & Easy Diabetes Cuisine, by Betty Marks will serve you well. Introductory remarks and nutritional analyses by one of my favorite authors, Hope S. Warshaw, MMSc, RD, CDE, are included in the opening pages of this cookbook.
According to Warshaw, "The most common complaint I hear is that the diabetes meal plan lacks interest. The lists of allowed foods appear limited, and the methods of preparing these foods result in tasteless, unimaginative meals. Just glancing at some of the recipes in Light & Easy Diabetes Cuisine disproves this notion. Betty Marks incorporates many unique ingredients and utilizes a wide variety of quick cooking methods to provide new ideas for creative meal planning, often the most difficult part of diabetes management."
Betty Marks speaks from experience as an insulin-dependent diabetic for 26 years. She's able to maintain a lifestyle that includes work, travel, theater, reading, dancing and sports, as well as making delicious meals for friends and family. What a testament to what CAN be done despite a diagnosis of diabetes!!
I like the larger print format and limited ingredient lists in this cookbook. We get all the essential nutritional elements in the analysis (including the sodium and cholesterol), as well as the exchanges. The majority of the recipes can be prepared and served in under 30 minutes, a bonus for the working Mom.
Content Continues Below ⤵ ↷
Light & Easy Diabetes Cuisine brings you over 200 dishes to tempt your palate and get you in and out of the kitchen FAST! I can't wait to try the Mexican Corn Chowder, Chili Chicken with Hash Brown Potatoes, Teriyaki Beef and Vegetables, Rosemary Pork Chops (served with pan juices), Sauteed Sea Scallops, Orzo & Pignoli (small pasta & pine nuts), the Cranberry Corn Muffins at Thanksgiving, and Peanut (Butter) Custard or Baked Apples Burnette for dessert.
Betty's recipes don't shy away from using moderate amounts of alcohol as another way to intensify and bring out the flavors of complementary recipe ingredients. If cooking with alcohol presents a problem for you, there is a current feature on Cooking With Alcohol on the Cinnamon Hearts website, which offers substitutions for alcohol as a recipe ingredient.
Rest assured readers, you definitely CAN eat well, live fast, and manage your diabetes with "Light & Easy Diabetes Cuisine." Two thumbs up for recipe creativity, ease of preparation and taste-full meals!
Book Details:
Author:

Betty Marks


Publisher:

Surrey Books


ISBN:

1572840382


View at: Amazon (see sale price)
Format:

Paperback: 250 pages