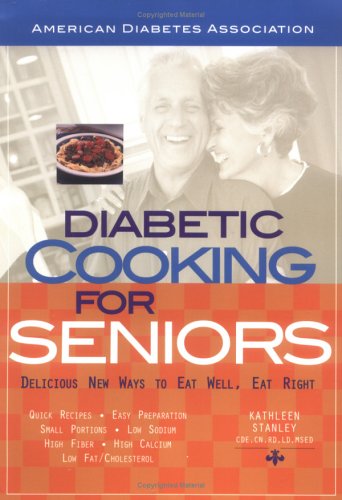 As people get older, their dietary needs and physical abilities change. This book addresses issues such as decreased sense of taste, difficulty in meal preparation due to arthritis, the need for more fiber, and food-drug interactions with a straightforward problem/solution approach. Quick, easy-to-prepare recipes with five or fewer ingredients arranged in specific categories such as low-sodium dishes, foods with more fiber, and low-cholesterol meals are key in this innovative new book.
Diabetic Cooking for Seniors
, by Kathleen Stanley, CDE, CN, RD, LD, MSED, (2001) by the American Diabetes Association.
Wow, what a great follow-up to 101 Tips for Aging Well With Diabetes. I just received Diabetic Cooking For Seniors think it's a terrific offering.
People entering their senior years often need to modify their diet to stay healthy, and senior adults with diabetes face even greater challenges to eating healthy and staying on track with diabetes care.
Content Continues Below ⤵ ↷
This is actually more than just a cookbook, it first takes a look at some of the challenges faced by seniors with diabetes:
Handling meal plan changes
Reducing sodium
Lowering fat and cholesterol
Eating out
Food and drug interactions
Digestive difficulties
Loss of appetite
Emotions, stress and boredom
Making food appealing (aging causes a loss of taste for many seniors, exclusive of diabetes)
Weight loss/gain
I love the fact that Diabetic Cooking For Seniors has published recipes which are purposely designed to eliminate timely chopping, dicing and preparation, as many of us experience painful arthritis as we age. Each recipe includes a nutritional analysis and exchange information, and most are designed for cooking in small portions, ideal for the reduced size senior family.
The recipes are divided into 10 chapters titled Breakfast Ideas; Quick Fixes; Low-Sodium Stuff; Flavor Powerhouse; Low-Calorie Concoctions; Fiber-Rich Foods; Super Snacks; Low or No Cholesterol; High-Calcium Choices and Simply Great Desserts.
I've already ear-marked several recipes such as Instant Picnic (this one will surprise you), Smothered Baked Portabello Mushroom (so Italian), Sticky Muffins (you get 2 per serving), Hot Skins (definitely not X-rated), Cows in the Orchard Salad (I'll let you try to guess what that one has in it), Apricot Candy (only 3 ingredients), and Cinnamon Rice, Chocolate Pancakes, and Strawberry Cloud Pie which will be offered to our Cinnamon Hearts readers!
This is a delightful book and you're going to be happy with your purchase. Go ahead and make your mouth happy - You don't have to be a Senior to enjoy these exciting new recipes!
Book Details:
Author:

Kathleen Stanley


Publisher:

American Diabetes Association


ISBN:

1580400736


View at: Amazon (see sale price)
Format:

Paperback, 150 pages