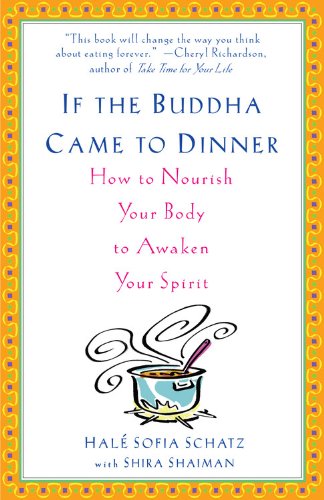 "Imagine for a moment that the Buddha is coming to dinner. What would you prepare? Most likely you wouldn't run out for fast-food burgers and onion rings. Instead, you'd spend time shopping and cooking the freshest, most tasty, wholesome meal you could produce with your very own hands, in your very own kitchen.
Now, let's imagine that you too are a spiritual being -- which you are! -- what would you feed yourself?" --from If the Buddha Came to Dinner
Many people don't realize that the simple daily act of eating can be a profound catalyst for spiritual growth, from experiencing a renewed sense of vitality to living a richer and more satisfying life. That's because each time we eat we have the opportunity to pay attention, care for ourselves, and feed the real source of our hunger: our spirit. Nourishment isn't a fad diet but a lifelong journey, and Hale Sofia Schatz is the ideal guide. Gentle, wise, and humorous, she shows us how to feed our Buddha within. A perfect blend of inspirational guidance and practical suggestions, If the Buddha Came to Dinner includes guidelines for selecting vital foods, tips for keeping your energy balanced throughout the day, a cleansing program, and recipes to awaken your palate.
Book Details:
Author:

Hale Sofia Schatz


Publisher:

Hyperion


ISBN:

078686883X


View at: Amazon (see sale price)
Format:

Paperback; 320 pages