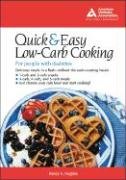 The Quick & Easy Low-Carb Cooking for People with Diabetes is designed just for people who want to simplify the cookinghealthy/ eating-healthy process. These easy to- follow recipes and meals already have carbs calculated for readers so there is no math for them to do. The book is divided into three sections, containing breakfasts, lunches, and dinners.
Based on the "carb choice" exchange system, where one carb choice equals 15 grams of carbohydrates, the book provides meals with three, four, and five "carb choices" to fit many meal plans. Each section contains meals with three, four, and five carb choices.
Readers get to choose how many carbs they want! There is also a snack section of one and two carb choices.
If you've finally graduated from diabetic exchanges to counting carbs, you'll love "Quick & Easy Low-Carb Cooking For People With Diabetes," by Nancy S. Hughes. With hectic schedules and little time to cook (holidays or otherwise), it can be difficult to find the time and energy to do the food math required by low-carb "diets" (don't you just hate that 4-letter word?).
Being a great fan of Nancy Hughes' recipes, I'm always thrilled to see a new cookbook by her make it's debut and, once again, she's come to the rescue with a new publication chock-full of tasty choices for low-carb eaters and people with diabetes. Says Hughes, "These recipes are geared for the real (that is busy) lives that we all lead. You can throw your calculator in a drawer because I've done the homework for you!" She continues, "I've kept the ingredient lists short and the prep time even shorter."
"Quick & Easy Low-Carb Cooking" is divided into five sections (breakfasts, lunches, dinners, desserts and snacks), and is based on the "carb choice" exchange system. All recipes have the carbs calculated per serving and in addition to a complete nutritional analysis, the diabetic exchanges are also available to those who have not yet "crossed over" to carb-counting. As a time-pressured cook myself, I appreciate the "try it with" section which suggests possible sides with each meal. My salivary juices started flowing with recipe titles like Rustic Cajun Chicken and Sausage Rice, Creamy Baked Chicken with Crunchy Corn Bread Topping, Sticky Maple Pecan Pull-Aparts, Weekend Morning Bacon-Potato Casserole Cheddary Vegetables au Gratin, and Lemon Zest Pound Cake with Apricot Topping. Where's my apron?
Published by the American Diabetes Association, "Quick & Easy Low-Carb Cooking For People With Diabetes" by Nancy Hughes is another sure keeper.
Book Details:
Author:

Nancy Hughes


Publisher:

McGraw-Hill/Contemporary Distributed Products


ISBN:

1580401473


View at: Amazon (see sale price)
Format:

Paperback; 136 pages