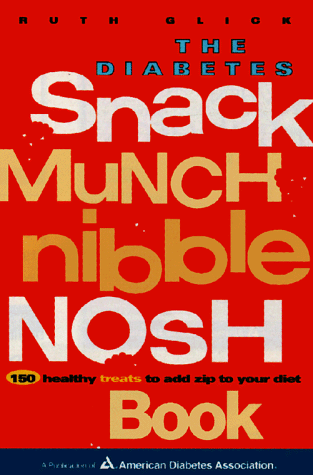 Finally, a collection of snack recipes for people with diabetes! This cookbook contains mini-meals such as chili con queso and crab cakes, dips and sauces such as black bean salsa and pesto, baked items such as muffins and breads, salads such as curried fruits and marinated vegetables, and soups.
"The Diabetes Snack, Munch, Nibble, and Nosh Book" features recipes for one or two people as well as for parties and crowds, snack ideas for hard-to-please kids, and a table of convenience food snacks recommended by the American Diabetes Association.
Here's more:
All recipes are low in fat and sodium, contrary to the usual expectations for snack foods
Includes nutrient analyses, preparation times, and exchanges for every recipe
Quick-to-fix, deliciously fun recipes--ready in minutes
Looking for a book with 175 healthy treats to add zip to your diabetic menu plan? They're all right here in the 2003 release of Ruth Glick's "The Diabetes Snack Munch Nibble Nosh Book," 2nd Edition. I loved this book the first time around and now the updated edition has 25 more flavorful new recipes!
This new edition is just in time for the holidays, with a variety of snack options in different categories including dips and spreads, sandwiches, baked dishes, crowd pleasers, microwave wonders, snacks for kids, desserts, and more. This is the season that begs for recipes for Marzipan Candy, Mulled Cider, Sweet Potato Pie, Artichoke and Shrimp Spread, Spiced Pecans, Holiday Wreaths (kids can make them) or Cranberry Orange Tart. The best news is you can make most of the recipes in the book in less than 30 minutes.
Snacking is a part of the American lifestyle, and with "The Diabetes Snack Munch Nibble Nosh Book," you can make your snacks healthier. Thanks to new meal plans which allow for snacks to give people with diabetes better control of the disease, they are now able to partake in this "eating past time." Published by the American Diabetes Association, this all-new edition is not only a great publication for healthy and delicous snack recipes for people with diabetes, it's written for everyone!
Review by Marilyn Helton
Book Details:
Author:

Ruth Glick


Publisher:

American Diabetes Association


ISBN:

1580400000


View at: Amazon (see sale price)
Format:

Paperback: 208 pages