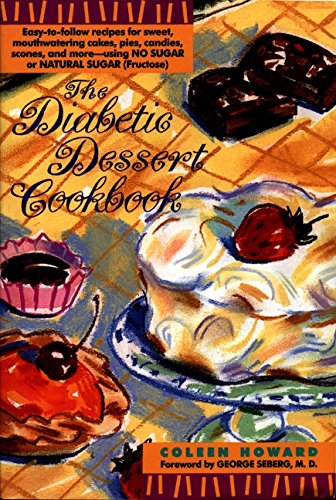 Sweet treats you're allowed to eat! Here are over one hundred delicious, nutritionally sound sweet treats everyone can enjoy. Specially created for diabetics and those with other sugar-related problems by nutrition consultant Coleen Howard, the candies and desserts featured will satisfy your craving for something sweet while staying within the limits of a diabetic diet.
Some recipes are sugar-free, some contain a low amount of fructose. All comply with the guidelines established by the American Diabetic Association and each recipe includes a complete list of nutritional values per piece.
What's for dessert? Get ready for all the goodies you've been craving!
Candy treats, including sweet and delicious butter crunch, truffles, fudge, English toffee, citrus candy, and bonbons
Sweet snacks to satisfy "anytime cravings," including a tempting trail mix, peanut butter cookies, fruit and nut treats and pretzels
Desserts that are a cornucopia of sinfully delicious delights, including cherry cheesecake, orange pound cake, chocolate cake, peach upside down cake, carrot cake, cranberry banana loaf cake, fruit crepes, chocolate souffli, custard tarts, bread pudding, banana cookies, lemon squares, apple pie, and much. much more!
Book Details:
Author:

Coleen Howard


Publisher:

Avon Books


ISBN:

0380788233


View at: Amazon (see sale price)
Format:

Paperback, 210 pages