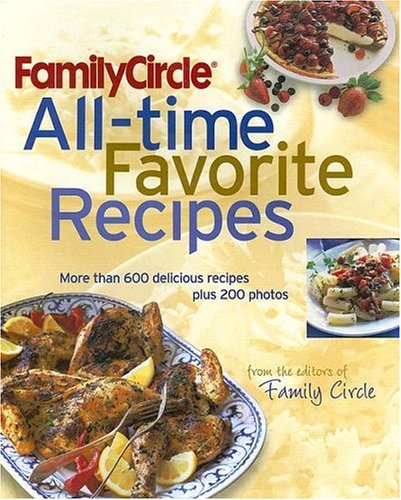 From the magazine known throughout America for its "great food and great recipes" comes this dazzling new collection of 600 contemporary and classic dishes.
Each year, Family Circle publishes hundreds of recipes in all categories, literally, from soup to nuts. In this magnificent new volume, the editors have selected more than six hundred that have proved to be most popular among the magazine's readers and collected them in one eye-appealing and practical volume.
Family Circle All-time Favorite Recipes is packed with triple-tested recipes for dishes ranging from Chicken and Parsleyed Dumpling Stew to Mustard-Ginger Glazed Beef Roast; Corn Fritters to Mediterranean Stuffed Peppers; Three-Cheese Penne to Spicy Thai-Style Fettuccine. And, of course, there are oodles of yummy desserts, from classic holiday and party cakes to cheese-cakes to Peach Crumble Pie to White Chocolate Mousse Cups.
The book is divided into eleven chapters, covering all courses and illustrated through-out with 150 full-color photographs that suggest simple but elegant ways to present many of the dishes. The preparation time and a complete nutritional analysis accompany each recipe; make-ahead tips are included when applicable.
Where appropriate, recipes are supplemented by helpful sidebars illustrated with 50 step-by-step photographs. Pointers on food safety and specific ingredients are sprinkled throughout. The appendix features an informative herb and spice chart plus hints to enhance cooking and entertaining.
Content Continues Below ⤵ ↷
With its abundance of recipes, generosity of information, and eye-pleasing array of photographs, Family Circle All-time Favorite Recipes is destined to become a treasured resource for home cooks. Not only the perfect gift for brides or young singles starting out, this book is also the ideal choice for accomplished cooks seeking fresh, new recipes to liven-up their repertoire.
Family Circle All-time Favorite Recipes is compiled by the editors of Family Circle, whose mission, so well demonstrated in this book, is to help busy women create the best possible lives for themselves and their families.
Book Details:
Author:

Family Circle


Publisher:

Gramercy


ISBN:

0517228254


View at: Amazon (see sale price)
Format:

Hardcover, 512 pages