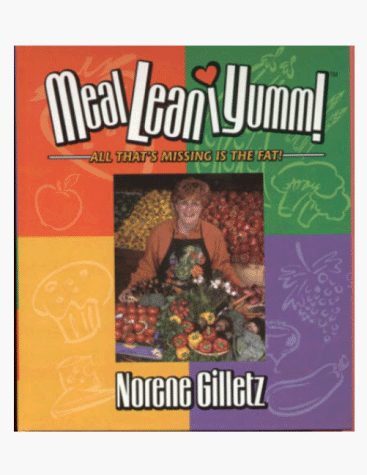 You don't have to be Jewish to enjoy the 800 healthy, home-style recipes in MealLeaniYumm! (pronounced meal.leani.yumm, almost like millennium). This quick and easy cookbook focuses on low-fat, nutritious cuisine, using everyday ingredients. It's an excellent resource for people with health and weight concerns, part-time vegetarians, cardiac patients, diabetics, Weight Watcher members - or those who couldn't care less, but just love good food!
From family fare to bountiful buffets, this information-packed book is perfect for today's time-challenged cook. You'll find step-by-step directions for nutritious, satisfying dishes that are sure to please. Don't be surprised if even your children ask for second helpings!
Each recipe has a nutritional analysis, plus there are hundreds of healthful hints about fat, fiber, cholesterol, calories, calcium and mmm-more! MealLeaniYumm! is packed with timesaving tips, information on freezing, substitutions, plus there are hundreds of recipe variations.
MealLeaniYumm! has a new subtitle that says it all: '800 Fast, Fabulous & Healthy Recipes for the Kosher (or not) Cook.' It still contains the same great recipes as the earlier edition. Recipes include: No-Fry Potato Latkes, Split Pea and Barley Soup, Cajun Chicken, Sesame Salmon, Passover Pizza and Fudgy-Wudgy Brownies. There is updated nutritional information as recommended by the Canadian Heart and Stroke Foundation. The new soft-cover binding is specially designed so the book stays open when cooking. Full-color photographs.
Content Continues Below ⤵ ↷
September is an especially meaningful month for the Jewish population, since it signals the beginning of the Jewish New Year or Rosh Hashana, and ends with the holiest of days in the Jewish year, Yom Kippur, or the Day of Atonement. These Jewish celebrations will occur before we meet again in October, so I'm pleased to let you know that the Jewish diabetic with a Kosher palate can feel confident in consuming very healthy and delicious recipes from "MealLeaniYumm! All That's Missing Is The Fat," by cookbook author Norene Gilletz, one of Canada's national treasures.
Norene Gilletz is the leading author of Kosher-style cookbooks in Canada and "MealLeaniYumm!" shows you why. With over 800 recipes for all Jewish holidays as well as the rest of the year, holiday table and menu suggestions, shopping hints and pantry suggestions, culinary and dietary tips and facts, the book is very comprehensive. Each recipe has a complete nutritional analysis, including carbohydrate counts, and diabetics can feel confident in using them. Although the Dietary Exchanges are not included, Norene has worked hard to keep the carbohydrate counts low without sacrificing flavor.
Norene is also a cookbook author who knows the value of adding anecdotal information regarding the recipe's history and the availability of ingredients, which are printed just under the recipe title. She also offers variations, substitutions, and freezing guidelines to the recipes whenever and wherever possible.
Book Details:
Author:

Norene Gilletz


Publisher:

Gourmania


ISBN:

0969797222


View at: Amazon (see sale price)
Format:

Hardcover: 414 pages