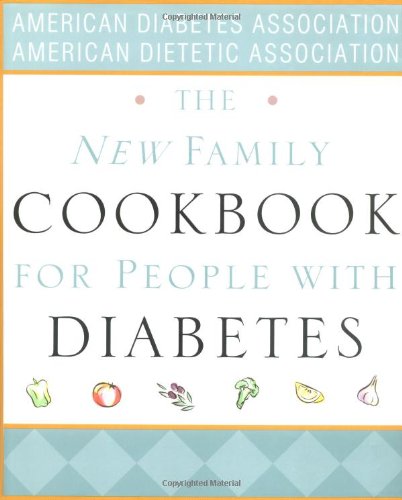 Prepared jointly by the American Diabetes Association and The American Dietetic Association, The New Family Cookbook for People with Diabetes is the most authoritative and comprehensive cookbook available for people with diabetes and their families. With more than 375 recipes that taste as good as they are good for you, this book makes it easy to prepare satisfying and delicious meals that the whole family will enjoy. If you are a person with diabetes, you know you have to be careful about what you eat. But healthful food doesn't have to be dull, and reducing fat and calories doesn't mean giving up flavor. Why feel deprived when you could start the day with Scrambled Eggs with Ham and a hot Buttermilk Biscuit? Company coming? Everyone will enjoy a savory Cheddar Cheese Dip served with crisp raw vegetables and apple slices. Grilled Orange-Mustard Chicken with Apple-Pecan Wild Rice and steamed broccoli make a perfect family dinner, or try Shrimp and Asparagus with Fettuccine in Mustard Cream Sauce for a weekend supper. Have a hankering for something sweet? Port-Poached Pears are an elegant fat-free dessert, or indulge in heavenly Angel Food Cake with Cocoa Whipped Cream. The recipes in The New Family Cookbook for People with Diabetes are consistent with the latest diabetes recommendations and make the best use of the new lower-fat ingredients available today. Each recipe is accompanied by a nutritional analysis and the most current diabetes exchange information; recipes containing more than 400 milligrams of sodium per serving are flagged.
Before my diagnosis of type 2 diabetes, my biggest passion was cooking. Most of the diabetic cookbooks available at that time presented dull and tasteless recipes. You can imagine my elation when the ADA revised the nutritional guidelines for diabetics in 1994, following the 10-year DCCT (Diabetes Control and Complications Trial) results. These guidelines for nutrition management now allow sugar as part of a healthful eating plan, and this new change is explained in the Introduction of the next book.
"The New Family Cookbook for People With Diabetes," prepared jointly by the American Diabetes Association and The American Dietetic Association, offers more than 375 recipes for easy-to-prepare delicious meals that the whole family can enjoy. The recipes use lower-fat ingredients wherever possible, unsaturated fats whenever possible, and most recipes use sugar instead of sugar substitutes. They provide a choice of fresh or dried herbs, and each has a nutrient analysis including the portion size, dietary exchanges, and sodium content in bold type whenever the serving size has more than 400mg of sodium per serving.
Being passionate about cooking, I enjoy the description of each recipe, found just under the title. For example, you can really get a "mouth-feel" for "Chicken In Mole Sauce" with this description: "Mole is a deep, dark sauce that's a Mexican specialty. Its unique flavor and reddish brown color results from blending onions, garlic, and chilies with--surprise--a small amount of cocoa powder or chocolate, which adds richness without sweetness."
In addition to the mouth-watering recipes, there are good hints and tips at the beginning of each food section, and an extensive Exchange Lists for Meal Planning Appendix. This is another winner; highly recommended.
Book Details:
Author:

American Diabetes Association


Author: American Dietetic Association
Publisher:

Simon & Schuster


ISBN:

0684826607


View at: Amazon (see sale price)
Format:

Hardcover: 544 pages