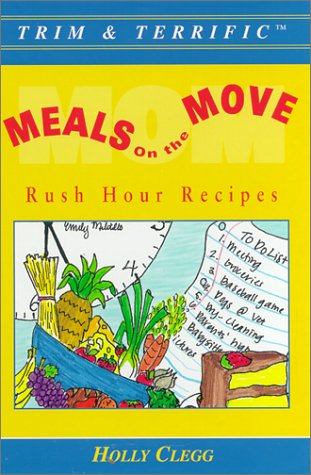 This mainstream meal driven cookbook is a common sense approach for today's hectic lifestyle as one juggles the family, activites, and career. All the recipes emphasize simplicity, fun, and nutrition that can be prepared in 30 minutes.
Chapters such as Rush Hour Dinners, Lunches On The Run, and Freezer Friendly Foods provide answers on meal preparation. The American Institute for Cancer Research provides nutritional information, diabetic exchanges, Food Facts and Healthier Approach recommendations to ease the transition toward healthier eating patterns.
Whether you enjoy cooking or just reading cookbooks, Meals On The Move is wealth of information and delicious recipes that is today's answer to eating your way to better health and lower cancer risk while enjoying your favorite foods.
href="http://www.amazon.com/exec/obidos/ASIN/0961088869/gourmetconnectio" target="_blank">MEALS on the MOVE: RUSH HOUR RECIPES, the newest of Holly Clegg's Trim & Terrific series, is yet another gold mine of delicous taste with corresponding nutritional value. In collaboration with the American Institute for Cancer Research (AICR), Holly has designed this new cookbook to fit today's hectic lifestyle while significantly lowering a family's risk of cancer.
How does this cookbook apply to a person who has diabetes? It's been this reviewer's experience through letters, cards and Emails from newly diagnosed diabetics or their caregivers, that the recurrent theme is something like, "What can I eat now that I can't eat anything anymore?" Or, "What can I cook for my spouse, child, grandchild, etc., now that I have to consider diabetes? And, "What is a diabetic diet?" (News Flash: There is no such thing as a diabetic diet!)
"MEALS on the MOVE" dispels the myth that a diagnosis of diabetes is a culinary death sentence. It contains over 200 quick and easy recipes that reflect two of AICR's guidelines for cancer-prevention -- a diet rich in a variey of plant-based foods, especially vegetables and fruit, and an emphasis on foods low in fat and salt. These are common objectives in a diabetic eating plan, as well. According to author Holly Clegg, "MEALS on the MOVE can be the first step in transforming your family's eating habits so they can live healthier, longer lives."
One area which is commonly overlooked in "healthy" cookbooks is the realization of how important a parent's role is in creating healthy eating habits in their children, and teaching them that their food choices will affect their health for the rest of their lives. Holly Clegg is the mother of three and very aware of the type food children will and won't eat. She has made a point of designing "MEALS on the MOVE" with the whole family in mind. My own 5-year old granddaughter is a very picky eater and I value Holly's emphasis on finding ways to make healthy foods " . . . taste like the good stuff."
"MEALS on the MOVE" is packed with recipes using Healthier Approach recommendations and Food Facts from the American Institute for Cancer Research. Recipes are simple to prepare and, as in her other cookbooks, high on taste. Chapters include Rush Hour Dinners, Lunches On The Run, and Easy Entertaining. I have personally sampled several of the recipes from this book and each has been a "keeper."
Published in a user-friendly, spiral-bound format, "MEALS on the MOVE," contains nutritional analyses and diabetic exchanges. If you want more bang for your bite, this is a good book with great taste! Highly recommended.
Reviewer's note: For more information on Holly Clegg and her cookbooks, you can visit her website @ www.hollyclegg.com
Book Details:
Author:

Holly Glegg


Publisher:

Holly B Clegg


ISBN:

0961088869


View at: Amazon (see sale price)
Format:

Plastic Comb: 256 pages